The Sales Terminal has many built-in features and configuration options. The amount of information available can be a little overwhelming for new users. This guide is designed to show a lightweight version of all the key information needed to start using the register. You can print out this guide or read digitally to click on the related links to find more information on a topic.
Table of Contents
Logging In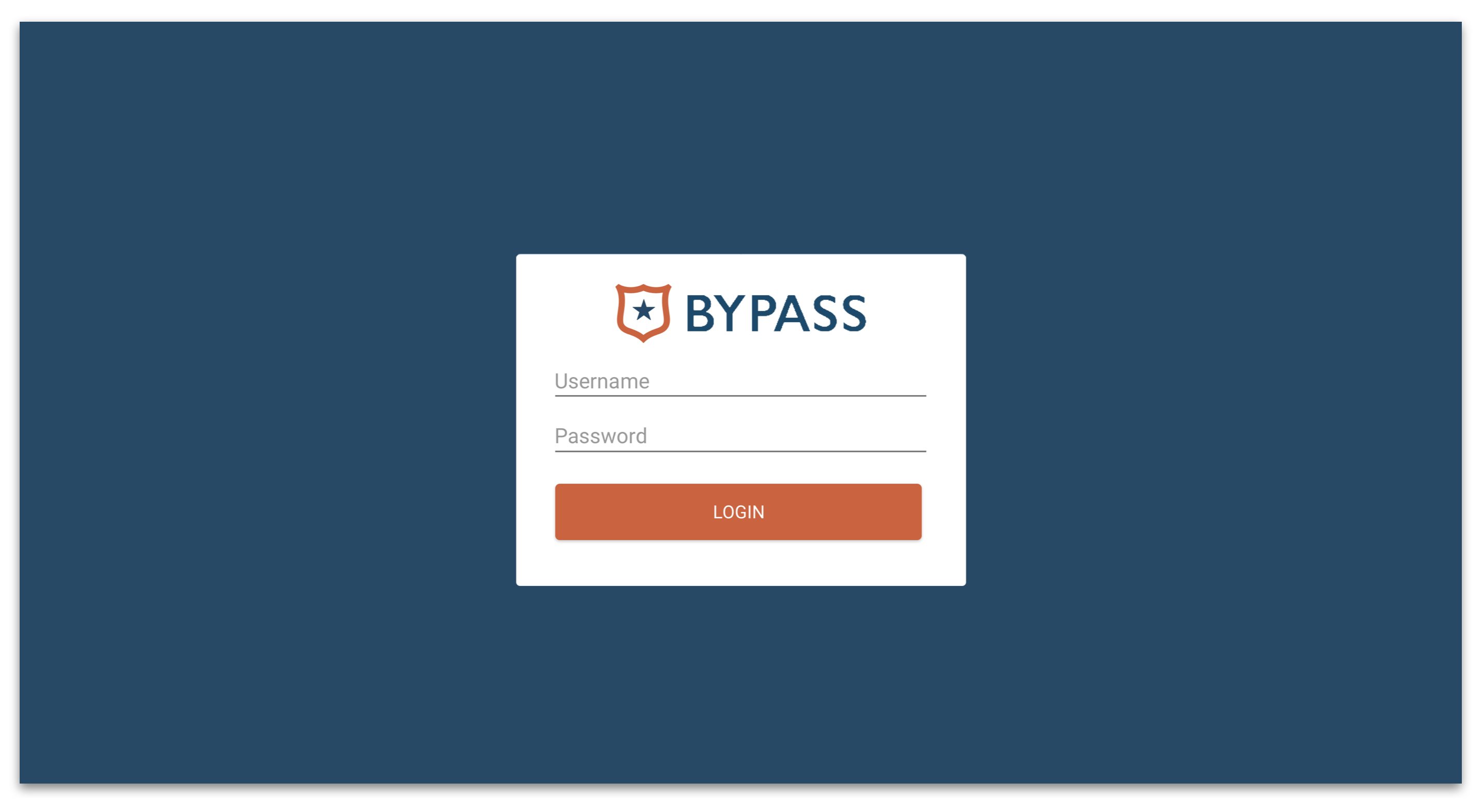 To sign into the terminal, there must be an Employee login. Enter the appropriate login information or swipe a Bypass Employee Card. Click here to learn how to create an Employee and an Employee Card.
If a default Location is not enabled, then the terminal will ask for a Location. To learn more about how to Log In, click here.
Home Screen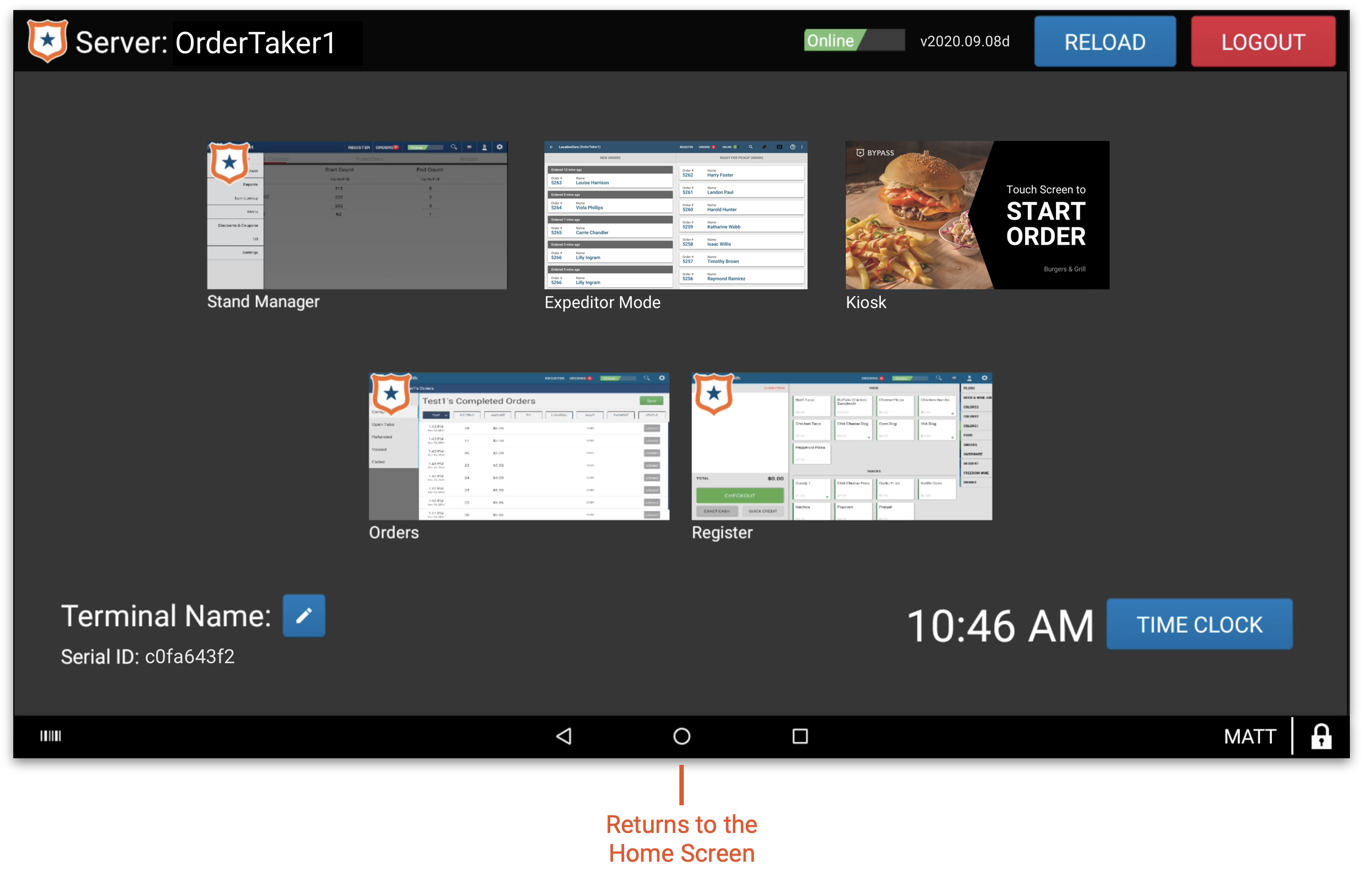 After logging in, you will see the Home Screen. Here you can navigate to different Bypass apps. You can return to this page at any time by tapping the Home button at the bottom center.
Example Apps:
Stand Manager - Track and edit standsheets for inventory
Expeditor Mode - Track orders and alert guest when they are ready
Kiosk - Customer facing self-service register
Orders - List of all orders taken
Register - Cashier facing register
And more depending on the needs of your business
To learn more about the Home Screen, click here.
Register Screen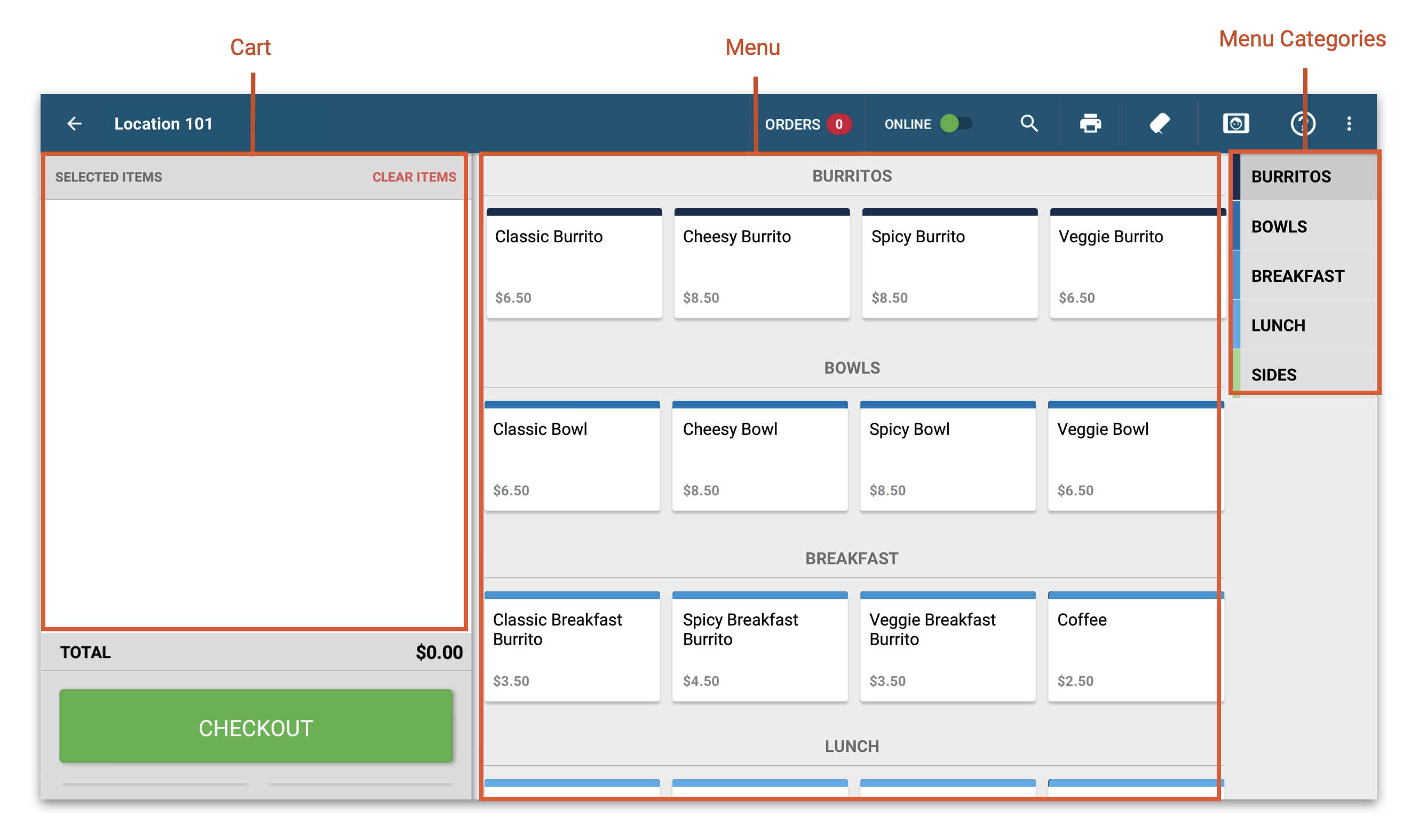 The Register Screen is organized into a Cart, a Menu, and the Menu Categories. Tap on an item to add it to the Cart. Tap on items in the cart to edit them. To tender out the order, tap Checkout.
To learn more about the Register Screen, click here.
Tender Screen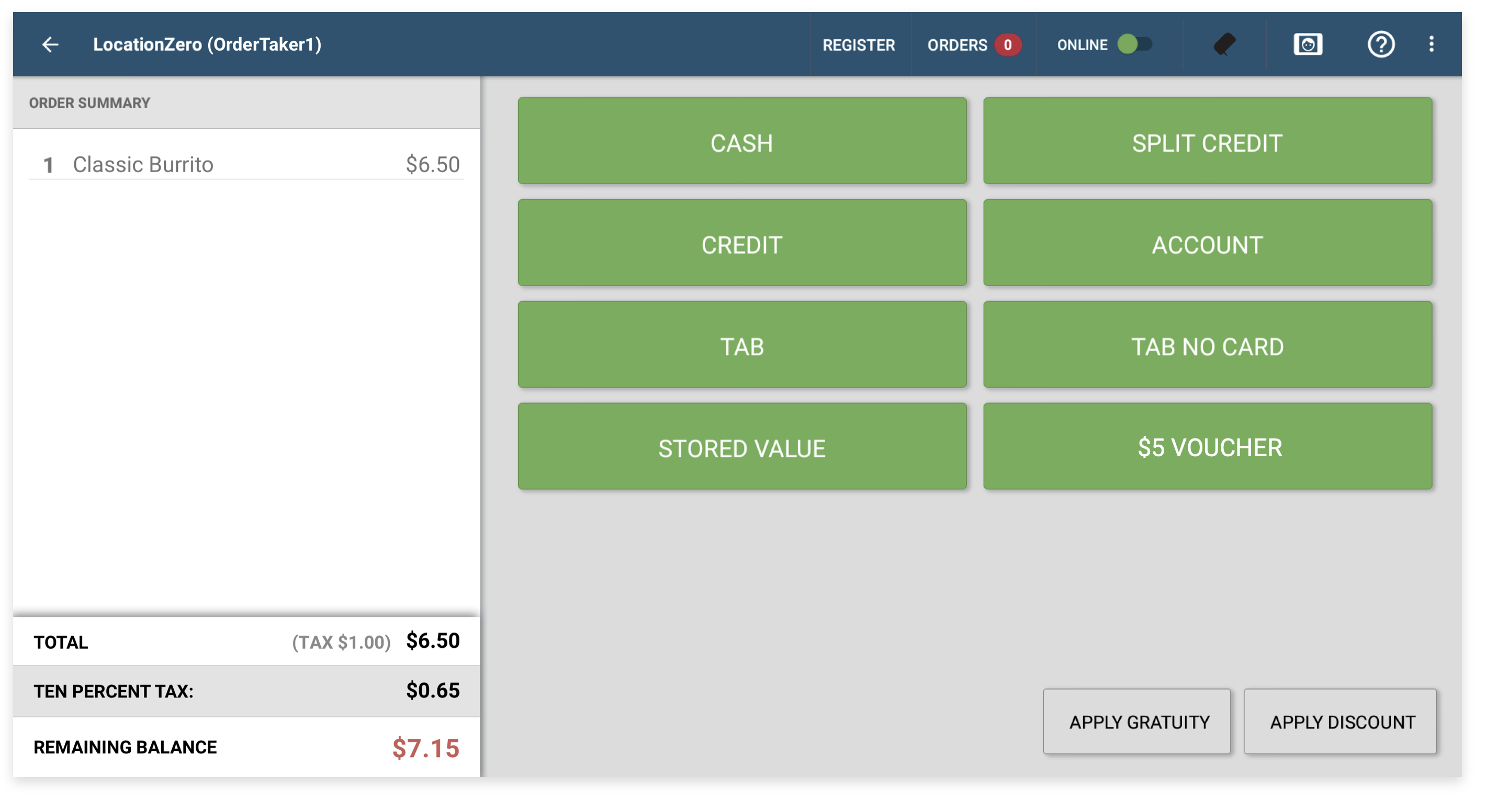 Tapping Checkout will show the Tender Screen. This screen is configured by the Locations Payment Settings, so your screen might look different from the above example. Tap on the Payment type and follow the on screen instructions to tender out the order.
Order Screen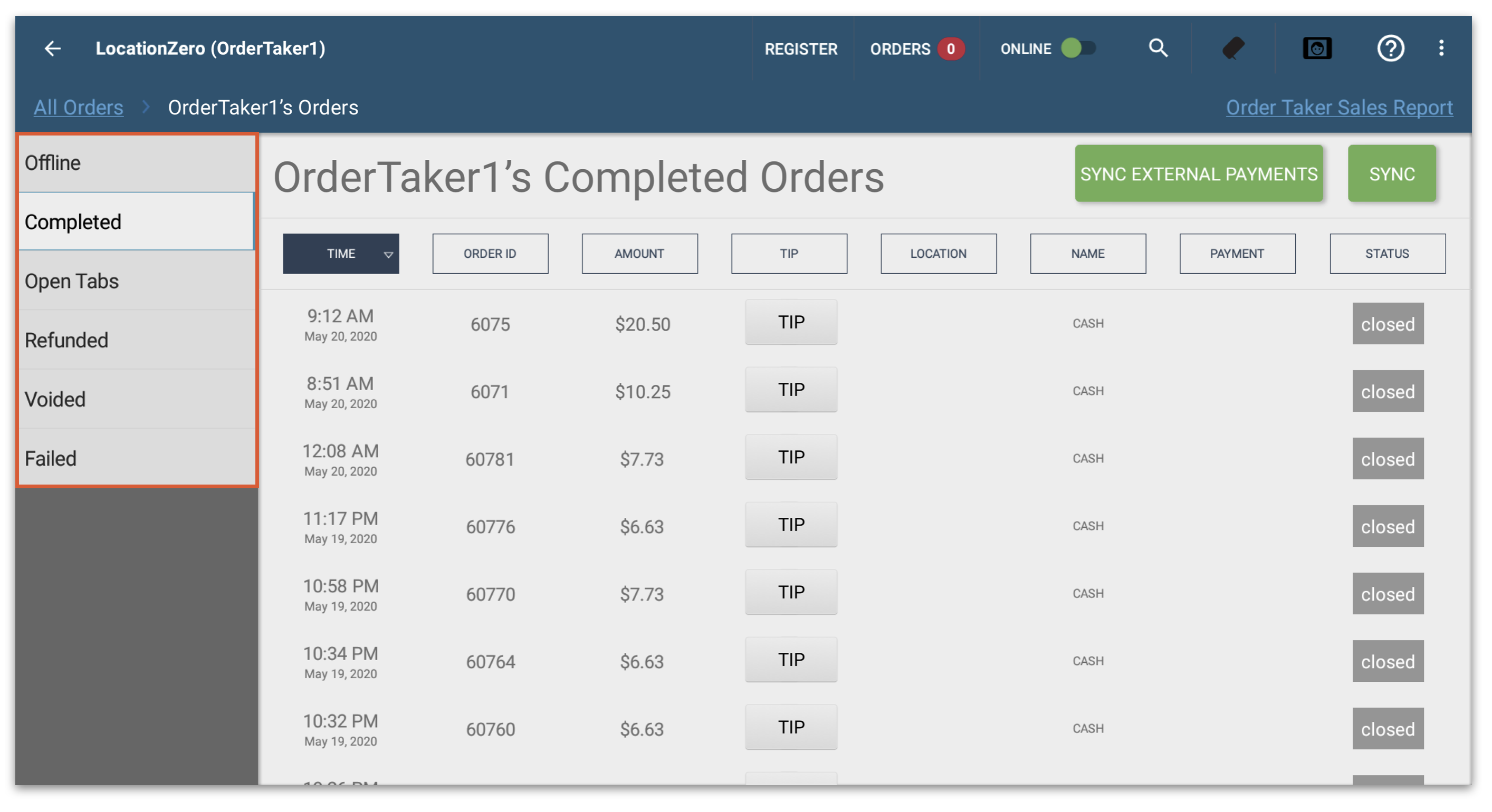 The Order Screen will display the current user's orders. Using the navigation bar on the left, you can view:
Offline Orders - Orders taken while in Offline Mode
Completed Orders - Orders that have been tendered out and payment has been synced
Open Tabs Orders - Orders that are paid with a Tab and not yet completed
Refunded Orders - Orders that have been refunded
Voided Orders - Orders that have been voided
Failed Orders - Orders that could not be completed
To learn more about the Orders Screen, click here.
Logging Out
It is important to log out after every use. Failure to log out could affect reporting and payment collection.
To log out, tap the logout button at the top right corner of the Home Screen.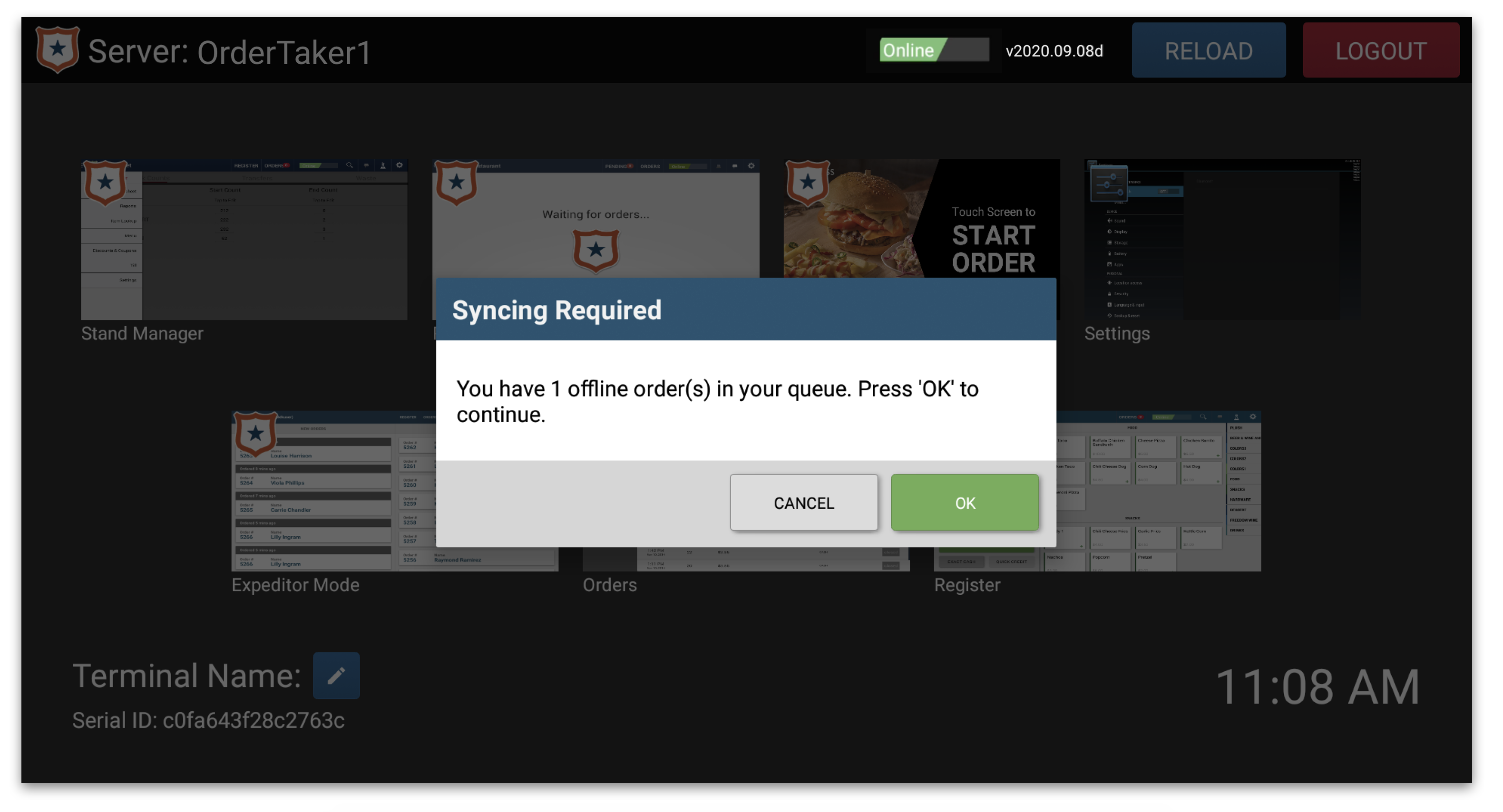 Unsynced offline orders will prevent a logout. The error message You have x offline order(s) in your queue will appear. Press 'OK' to continue will stop any logout attempts to prevent the loss of orders. You will need to sync offline orders from the orders page. Click here for instructions: Syncing Offline Orders.