As great as network technology has become it isn't without its flaws. Networks can fail and when they do Bypass is here to help keep the lines moving. A Bypass device can still complete certain orders when it has network trouble. This means the Bypass will process the order while offline and then, when the network is back online, it can process the payment. Naturally, this comes with some risk. This guide will explain what Offline Mode is and how it should be used.
Table of Contents
What is Offline Mode?
With Cloud-based Point of Sale, the devices connection to the network is crucial. To combat this Bypass is designed to do as much as possible with little to no network connection. With Offline Mode you can still complete orders even when you have internet issues.
When using Offline Mode the Order gets processed and the Payment waits in the background until the network is restored. Being able to process orders continuously means that lines get to keep moving and customers are happy. The risk is that payments cannot authorize until the network is re-enabled. Meaning that if a credit card would fail then you wouldn't know until after the order has finished.
What is the difference between an Order and a Payment?
In Bypass, An order is a cart with one or more items that can be paid for. A payment is a collection of funds used to pay for an order. Payments require a network to be complete but an order can be processed without an internet connection.
You can control what level of risk you are willing to accept by setting a credit card threshold for offline orders.
How do I know when I'm working in Offline Mode?
There are varying degrees of network connect but to make it simple we will focus on three degrees of signal strength.

Modern Network Speed - The device operates normally
Slow Network Speed - Authorizing cards may be slow or potentially timeout
No Network - Offline Functionality Only
If the network is behaving normally and is up to par with Bypass networking standards (around 1mb/s per device) then the system will behave normally.
When the network is slow the effects can become less obvious. A cashier may notice slower than normal processing speeds after swiping a credit card. In extreme scenarios, a payment may move to the background to authenticate later to allow the order to finish.
If the Register detects that there is no ethernet cable plugged in and no configured WiFi network, then it will automatically activate Offline Mode.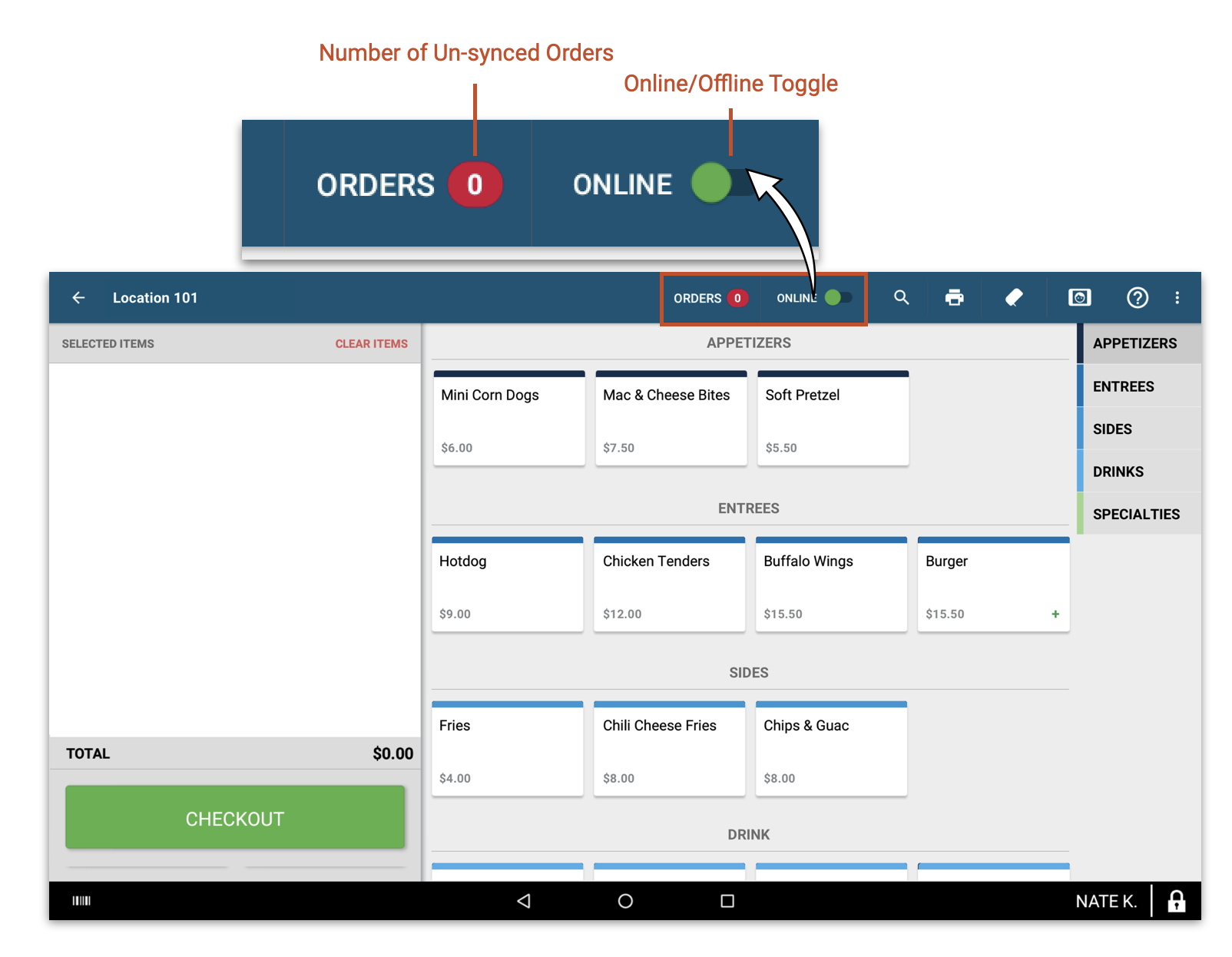 The Online/Offline status icon will show the device as Offline. When taking orders in Offline Mode the Un-synced orders indicator will show the number of offline orders in red.
A cashier or manager can manually toggle Offline Mode using the switch at the top of the screen. When the device is manually put into offline, it will stay in offline mode until the cashier or manager toggles the device back online.
If the device has Un-synced Offline orders then the device will not let a user log off until those orders are synced.
What risks are involved with using Offline Mode?
The main purpose of Offline Mode is to keep lines moving by allowing Orders to be complete but letting Payments be processed later. This means that if a payment would fail during an order then a cashier would not know until after the network comes back online.
Key issues when using Offline mode:
Orders paid with credit cards can only be below the threshold amount (set at location settings)
Stored Value/Gift Cards will not be accepted
Single Identity feature will not work while offline (Feature like loyalty will not be useable)
Orders and Payments have to be synced after regaining network access in order for the payments to process
Bypass is not responsible for lost funds due to the use of Offline Mode.
What should I do after using Offline Mode?
When using Offline Mode it is critical that Orders and Payments are synced as soon as possible. After network availability returns you should:
Sync any pending offline orders
Sync any offline external payments
Click the above links for more information about these processes.
Can I log into the station if it is offline?
If the last user to log in while online was an admin and data had not been cleared, that user will be able to log in again.