Clover detects tampering in different ways depending on the Clover device you use.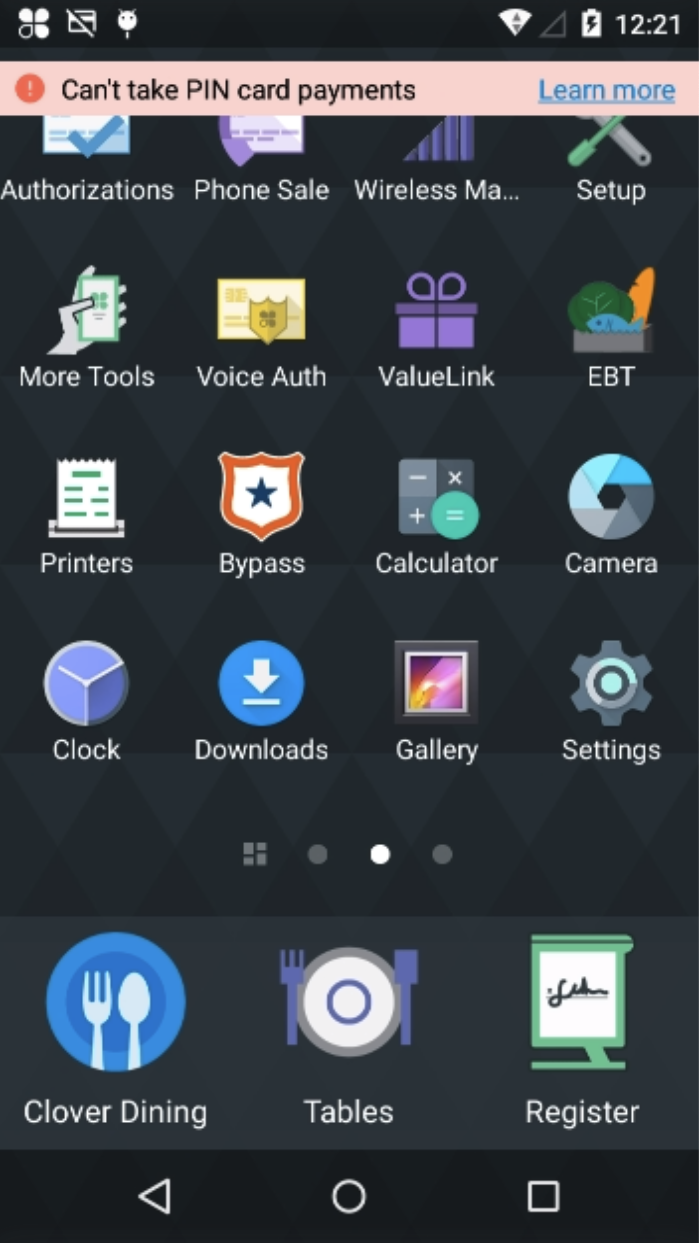 Place your device into Limp Mode
Inspect your device for tampering
About PIN entry devices
Payment Card Industry (PCI) compliance dictates that PIN-entry devices auto-detect if tampering of a device occurs, and if detected, lock the ability to take PIN-entry transactions. Clover devices come with sensors that are used to detect misuse or harm to your device. In rare cases, tampering may be detected if a device is dropped or shaken.
If our sensors detect tampering, you'll receive an email from Clover that a tamper has been detected. If you have questions or suspect that your device has been tampered with, contact Clover support.
Recognize a tampered device
If your Station, Mini, or Flex device detects a tamper, three potential screens might appear.
In the Setup Wizard, you might be automatically directed to the Get Help screen with the error Device tampered, return to manufacturer.

In the Setup Wizard, you might see a Tamper Detected screen.

If the device detects a tamper after activation, the following error is displayed in the Sale, Refund, Phone Sale, Authorizations, and other apps.
The only way to remove the tampered message is to request a new device from Clover support or enter limp mode. Both of these actions require owner authorization to complete.
Replace a tampered device
It is essential to replace a tampered device as soon as possible to restore full payment functionality.
Note: You must be an owner or admin to request a replacement device.
Place your device into Limp Mode
If you are an authorized owner you can continue taking card payments by taking your device out of P2PE compliance, however, you must acknowledge the liability risk. The following screenshots show the steps to be taken if you wish to proceed.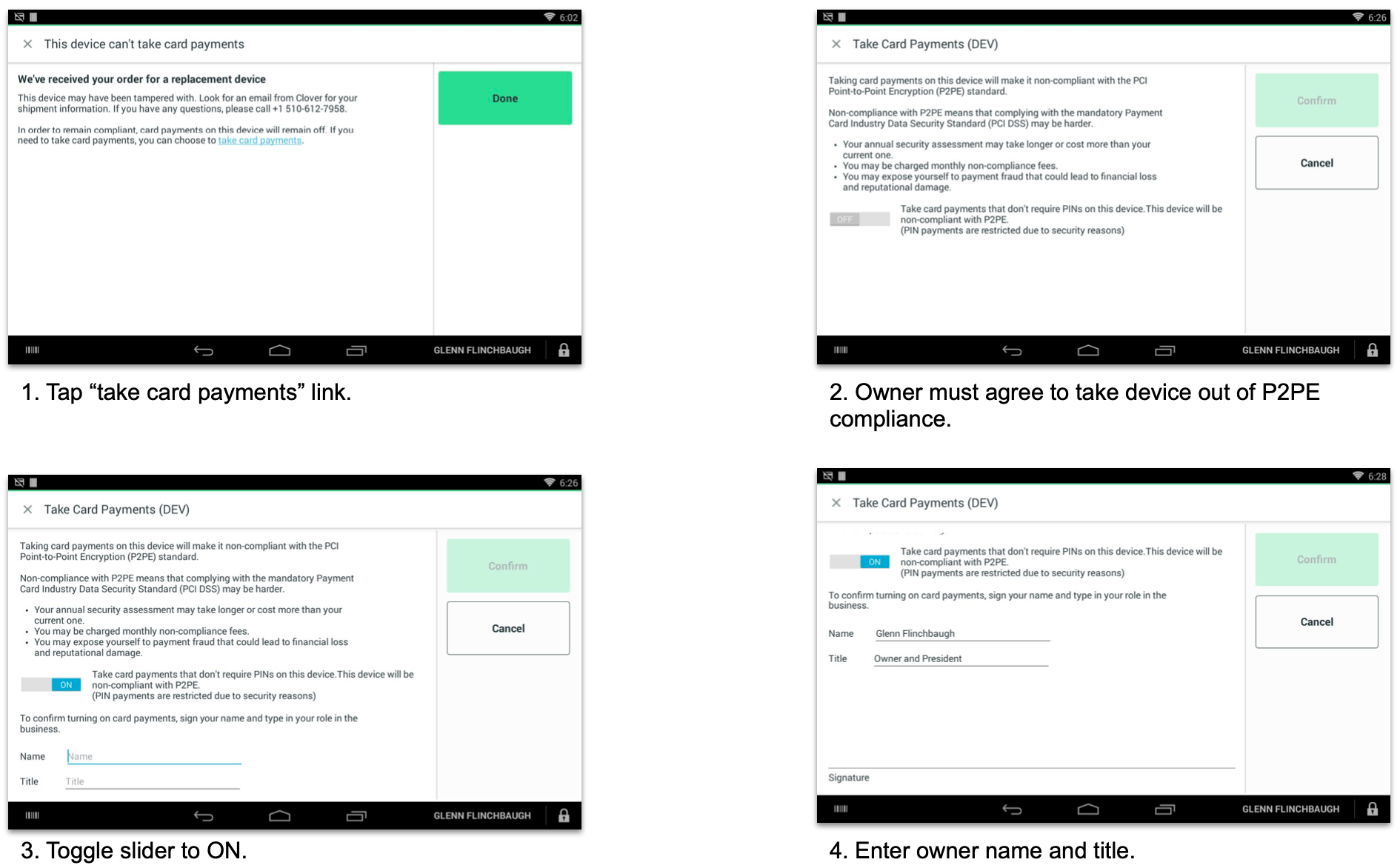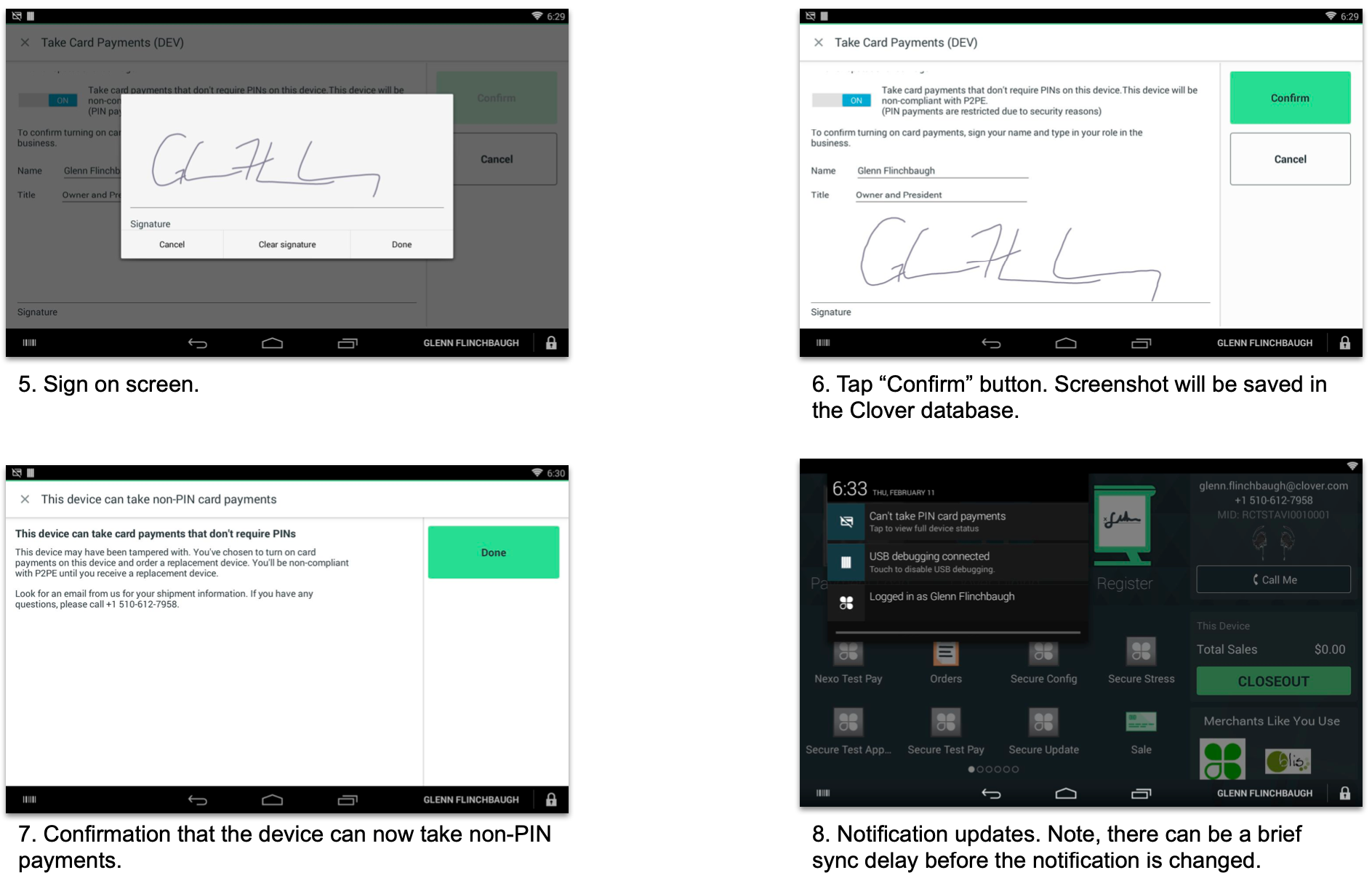 Inspect your device for tampering
Your Clover Device should be inspected for signs of tamper. Here is a partial list of things to look for:
The exterior of the device shows evidence of cutting, disassembly, broken seals, broken ports.

There are unusual wires or overlays connected inside the chip card slot, on or near the PIN-entry area.

Wires are loose or connector broken.

The number of connections to the device are different.

The cables are a different color.

There are apparent changes to the resistance when inserting or removing a card from the chip card slot.

Your device is in a different location.

Your device has scratches especially around the seams of the terminal window display.

Clover labels are missing or show signs of peeling.
In addition, check the PCI website for best practices.