Clients can now track employee hours worked through the clock in / clock-out functionality on any Bypass Access or Anywhere device. Additionally, employees can be assigned to one or more jobs, each with an adjustable pay rate. The Time Clock functionality is not meant to replace your payroll system, but instead, provide a way to keep track of employees' hours. To use the Time Clock feature, you will need to create Employee accounts for your staff.
Table of Contents
Overview
To manage the Time Clock feature in Bypass Manager, navigate to Labor > Time Clock.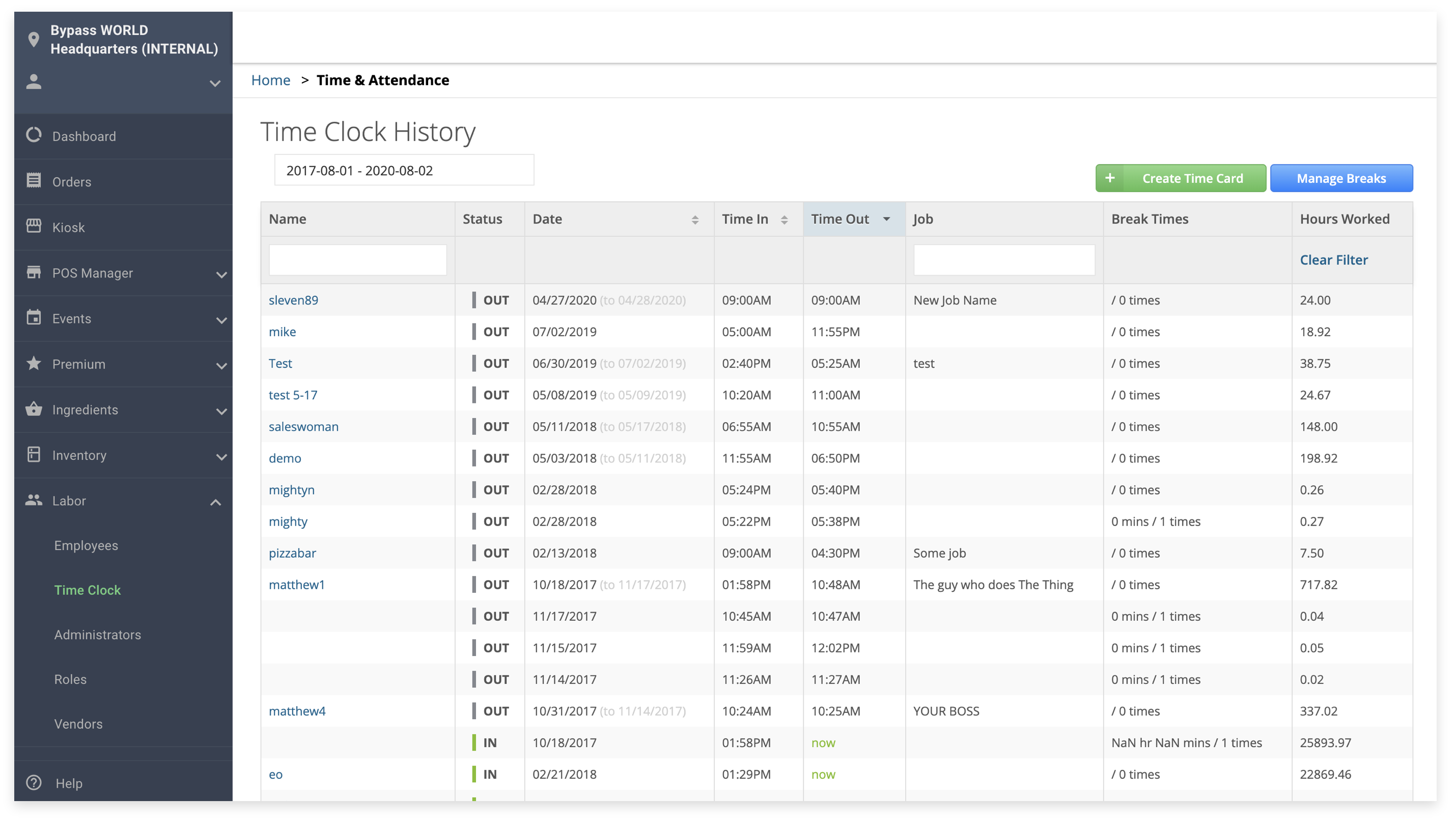 The Time Clock page will show detailed information about current and past time punches. A Time Card is automatically created when a user clocks in or out on their terminal. You can create new Time Cards or edit existing ones on this page.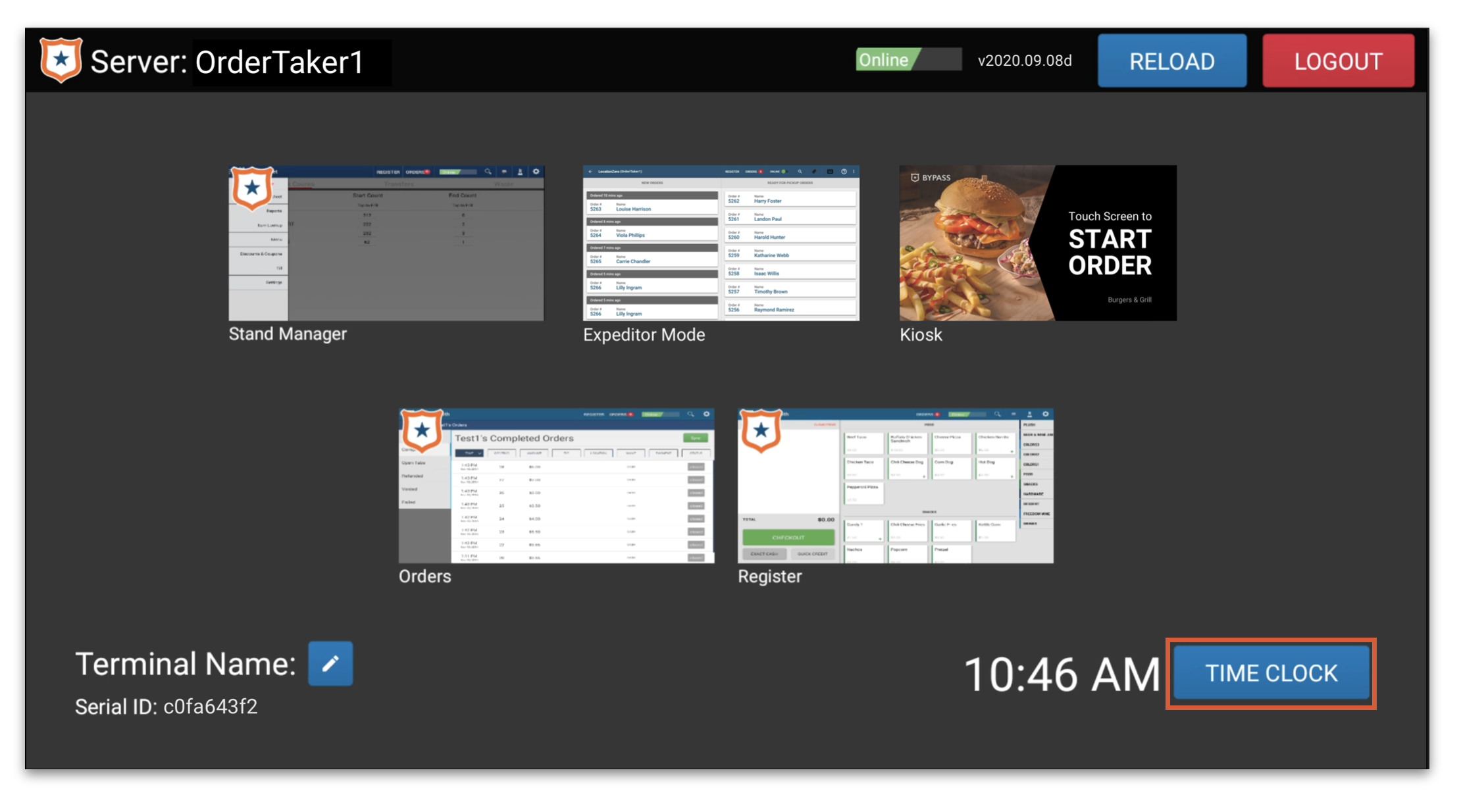 Employees and clock in and out using the Time Clock button on the home page.
Creating and Managing Time Cards
If an employee forgot to clock into their shift, you can manually create a Time Card.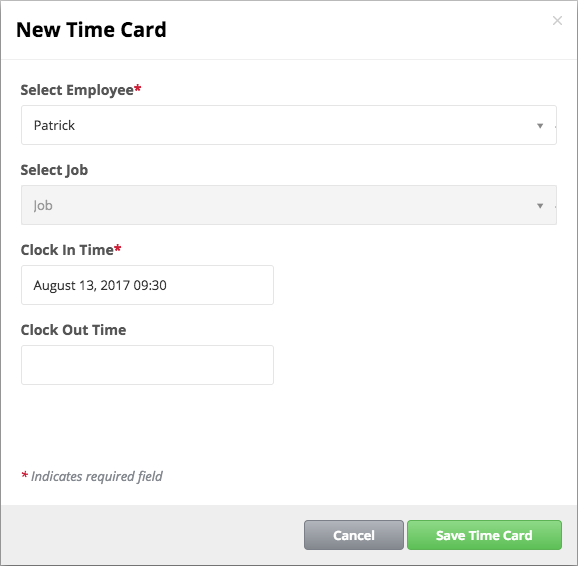 Click the Create Time Card button in the upper-right.
Select the Employee from the Select Employee menu.
If the Employee has multiple Jobs, select the Job they performed from the Select Job menu.
Click the Clock In Time field to select the Date and Time the employee clocked in.
If the Employee has already clocked out, click the Clock Out Time field to select the Date and Time the employee clocked out.
Click the Save Time Card button to record the Employee's shift.
Editing a Time Card
If an Employee's Time Card needs to be edited due to an incorrect Clock In/Out time or the wrong Job was selected, you can easily do so from the Time Clock page.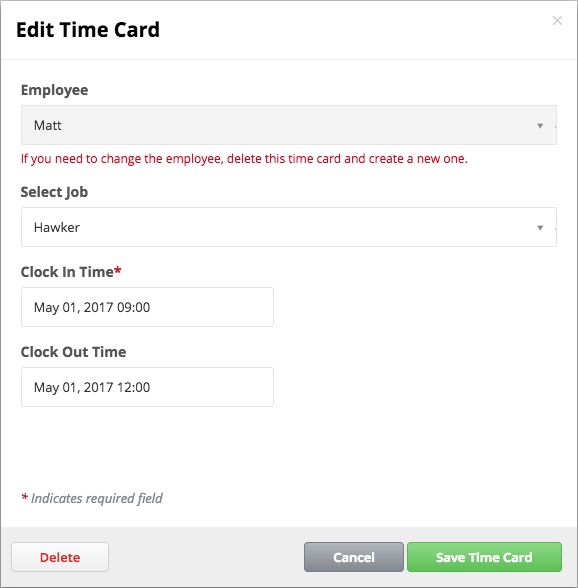 In the list of Employee's Time Cards, click the Employee Name on the left.
Make any necessary changes to the Job, Clock In Time, and/or Clock Out Time.
Click the Save Time Card button to save the changes.
If an Employee had recorded their time under the wrong account or you need to remove a Time Card for other reasons, you can delete the Time Card by clicking the Delete button in the bottom left.
Breaks
To easily identify when an Employee has taken a break, you can define Breaks on the Time Clock page. When Breaks are defined, Employees will see them appear as options when using the Time Clock on Access tablets and Anywhere mobile devices.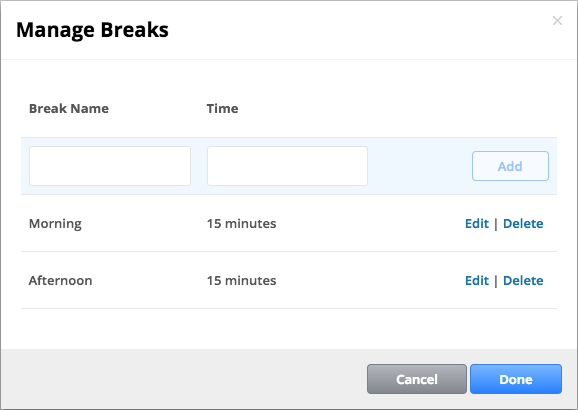 To manage Breaks, click the Manage Breaks button. When you are done, click the Done button to close the Manage Breaks dialog. Here you can add, edit, or delete breaks. Click Done to finalize your changes.