The purpose of this guide is to configure an Epson TM-U220b Network Impact Printer to work with the Bypass point of sale system. If you do not have this model of printer or have a different Epson Impact print contact the Bypass Support team at (512) 291-6192 OPTION 1.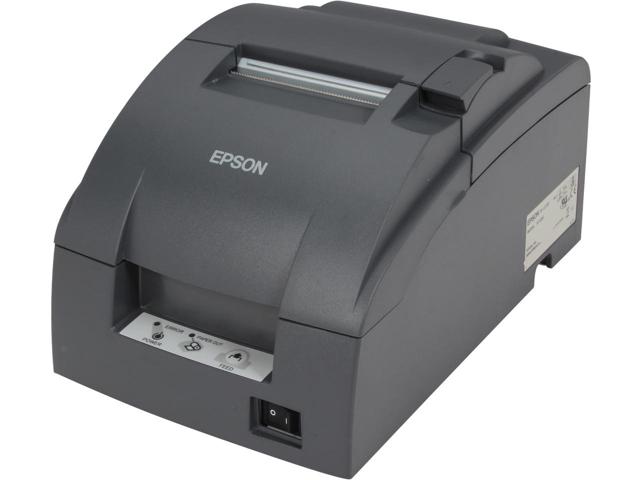 1. Print out the network config page. We use two different types of network generally, the steps on how to do this for each are listed below:
a. Make
sure the print is ON. The printer can not reset if the power is off.
b. Turn the printer around.
c. On the back of the printer, find the "Reset" button. Using something thin enough (like a paper clip), push and hold the reset button until the Network Config sheet prints out.

---
2. Your Network Config slip that prints out should look similar to the image below. We are specifically looking for the TCP/IP settings on this sheet, as we will be configuring our computer to the same network as these settings and then typing in the IP address of the printer into our web browser like we would a normal URL.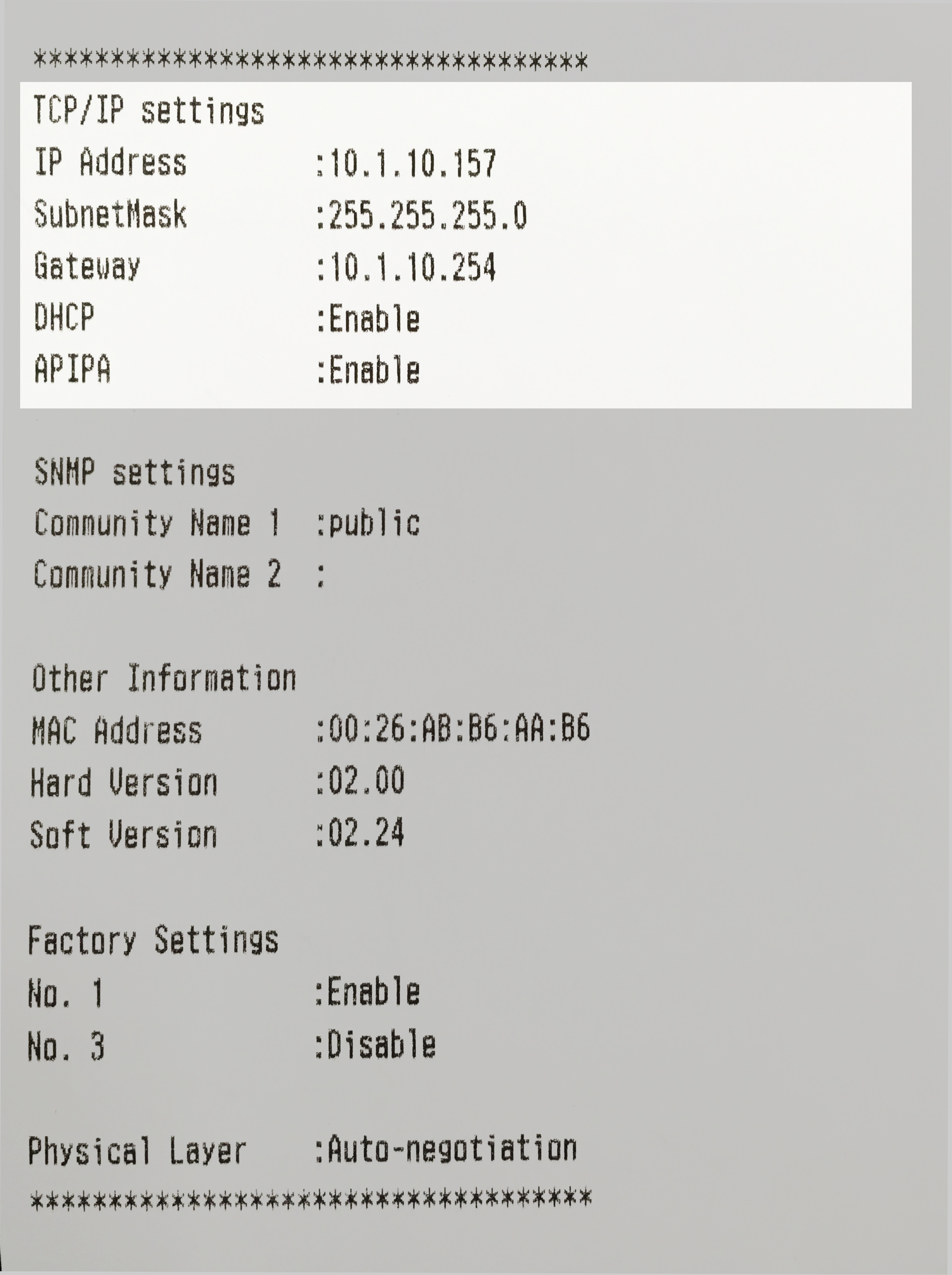 In this example, our printer we will be configuring is on the 10.1.10.0 Network with an IP address of 10.1.10.157. The subnet is 255.255.255.0 and because we will be connecting directly into the printer, we will not need to input the Default Gateway information when adjusting our computer's network adapter settings. Let's go ahead and change our computer settings now. In this example, any IP address between 10.1.10.1 and 10.1.10.255 will work (except for 10.1.10.157 because that's the IP address of our printer we are connected to). Let's go ahead and set our computer's IP address to the following (instructions on how to do this linked below):
IP Address: 10.1.10.156
Subnet: 255.255.255.0

For MAC, follow the instructions here to change your computer's IP settings: https://www.wikihow.com/Change-the-IP-Address-on-a-Mac

For PC, follow the instructions here to change your computer's IP settings: https://www.howtogeek.com/howto/19249/how-to-assign-a-static-ip-address-in-xp-vista-or-windows-7/
---
3. 
Now that we have changed our computer's IP settings, let's once again double check that we are directly connected via Ethernet to the printer and that the printer is powered on. We can now navigate to any web brower you prefer, and in the URL address bar, type in the IP address of your printer and hit enter. (In this case we would type in 10.1.10.157). Example below:

At this point, you might be prompted to input a username / password to login to the printer. Unless it has been changed by someone, the username and password is always as follows:
username: epson
password: epson
After you enter these credentials or if you are not prompted for this, you will be directed to the Epson Printer "landing page" (shown below). * Note that if these credentials do not work, you will need to manually reset the Printer to it's factory default settings * 


We will want to navigate to the TCP/IP link on the navigation pane on the left side of the screen. Here we can enter in the new IP settings that we wish to set this printer to. Make sure to type in the IP Address, the Subnet Mask, and the Default Gateway information. * Always double check your information before hitting the "SUBMIT" button. *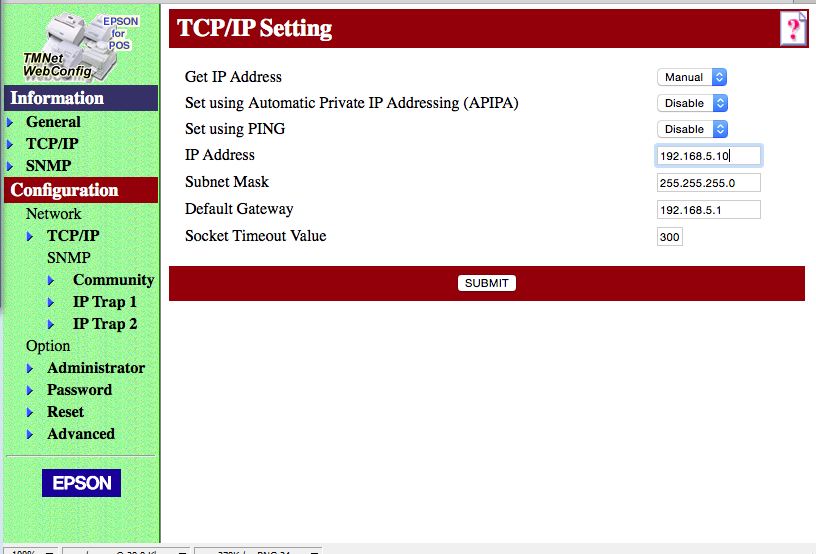 After hitting "SUBMIT", it should change to a different page letting you know that it is sending the configuration. Give it about 5-10 seconds, and then hit the "RESET" button on this page, and power your printer off and back on again. 
To verify you completed this process properly, you can re-print the network config sheet like we did before.