Bypass has made it easy to investigate when locations might have hidden network issues. Using the Potential Missing Payments Report, you can check locations for specific terminals that have unsynced payments. The Potential Missing Payment Report monitors payments between Bypass and Clover and reports any discrepancies between them. This article will explain what to do with the information provided by the Potential Missing Payments Report.
Table of Contents
Overview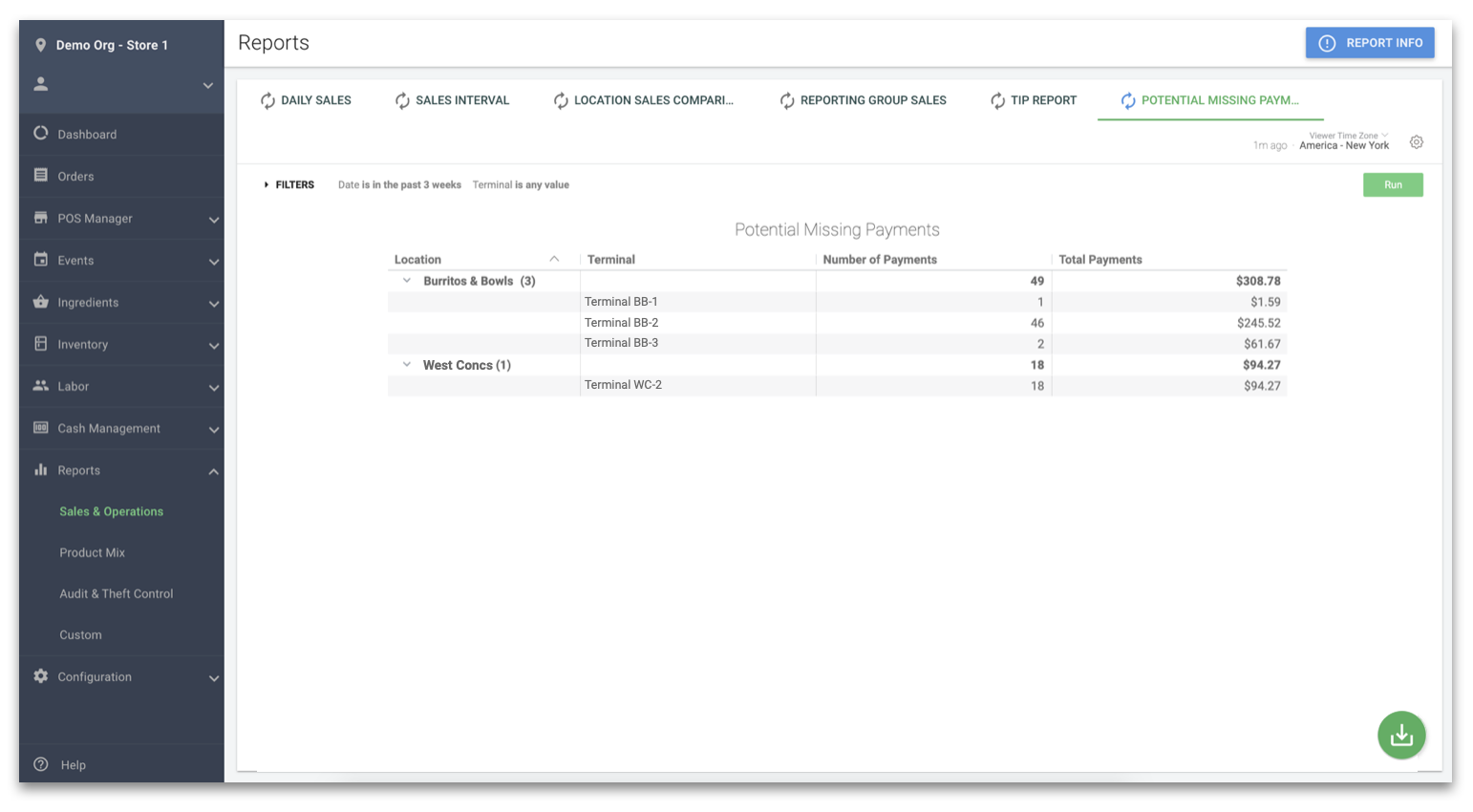 To see The Potential Missing Payments Report navigate to Reports > Sales & Operations. This report is designed to be an investigation tool to help identify locations with network problems.
Bypass generates this report by comparing Bypass Orders to Clover Payments. If the total amount of Orders does not equal the total amount of Payments, this report will show the difference. Seeing a dollar amount in this report does not mean these payments are missing. However, you should take steps to make sure these payments are not lost.
To learn more about the difference between Orders and Payments you can click here.
How to Read the Potential Missing Payment Report
The Potential Missing Payments report shows the following information:
Location - Locations with Terminals that have potential unsynced payments
Terminal Name - the name of the terminal
Number of Payments - The number of potential unsynced payments
Total Payments - The total dollar amount of unsynced payments

The Potential Missing Payment Report is most useful in small and consistent chunks of time. You will not get good information from looking at wide historical ranges of this report. Taking too long to look at this report will give you incomplete and unactionable data. Make it a habit to check this page consistently.
Our recommendation is to check this report daily or weekly. When the data is current you can catch potential issues ahead of time and prevent these payments from being lost due to late processing.
What to do when you have Potential Missing Payments
When you have missing potential you will need to check the terminals listed to see if the connected Clover Minis are missing payments. For a full guide on how to sync offline payments, you can click here.