On the Station Duo, Stand Manager allows users to access functions on the register including kiosk status for alcohol sales, digital Standsheets, pulling certain Reports, editing the Till, accessing Settings, and debugging the register.


Table of Contents
Stand Manager Overview
1. Once logged into the Station Duo, click Stand Manager.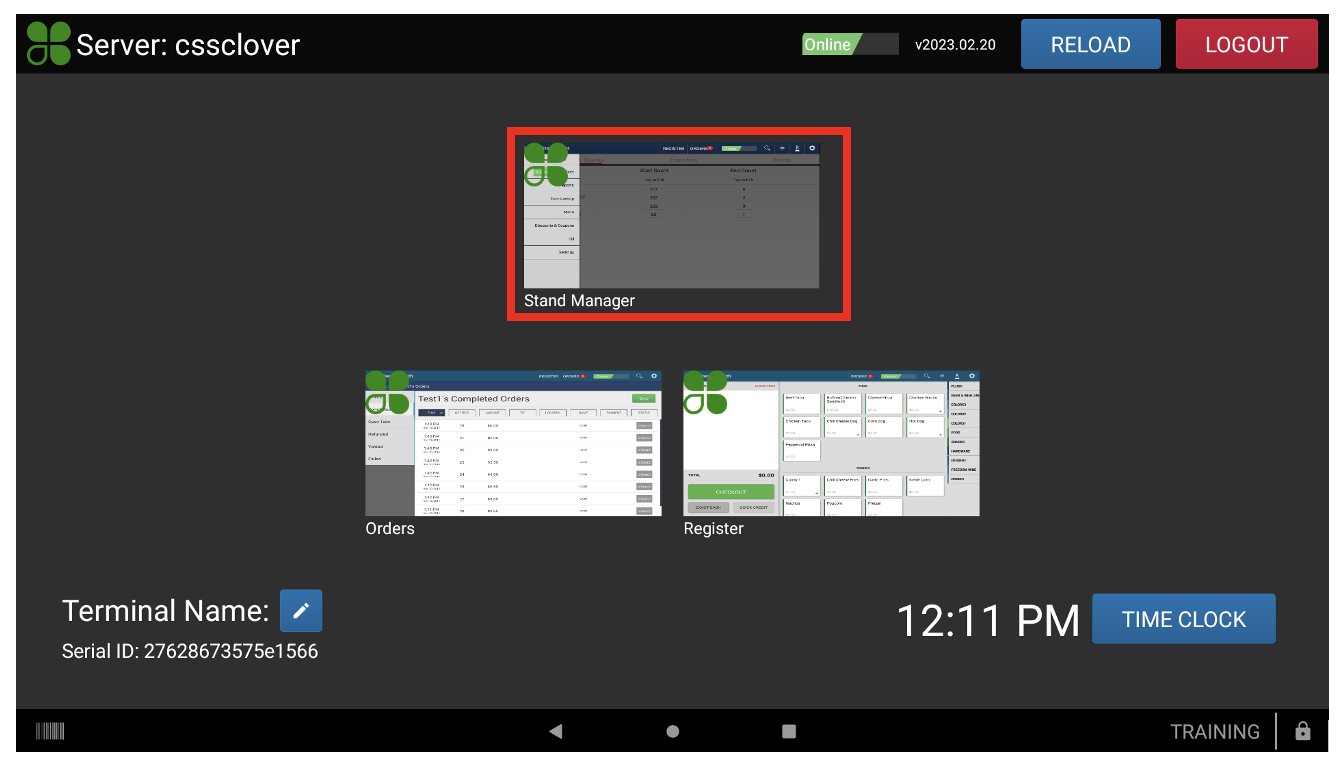 2. From here you can select the page you wish to access from the menu on the left.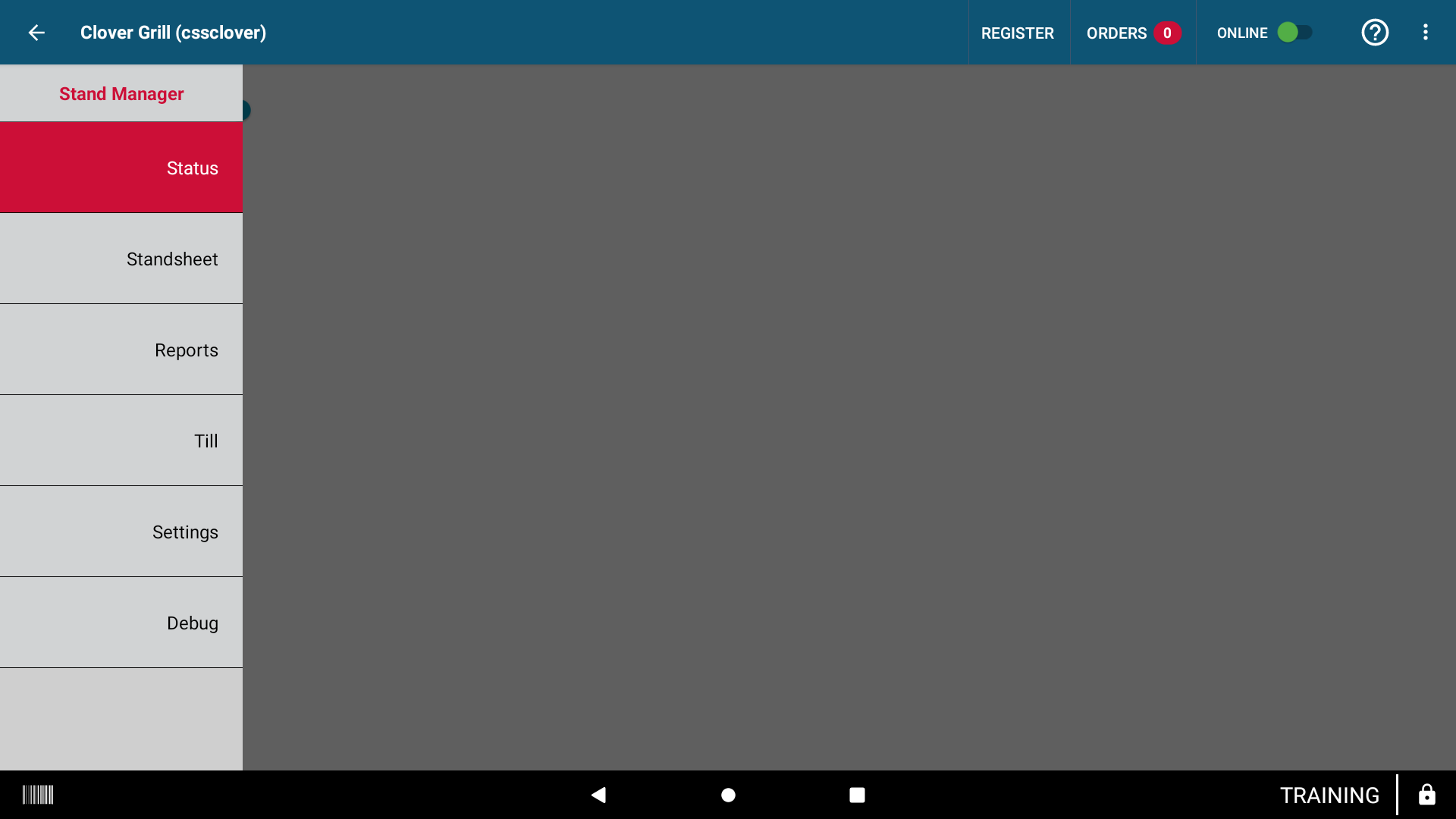 Status
Under Status, you can turn Alcohol sales on and off for Kiosk. When toggled off, the Kiosk will remove all alcoholic items from the customer-facing menu. The item must be marked as "Alcoholic Item" in Clover Sport Manager under POS Manager > Menu Manager > Item.
1. To change the status, select Status.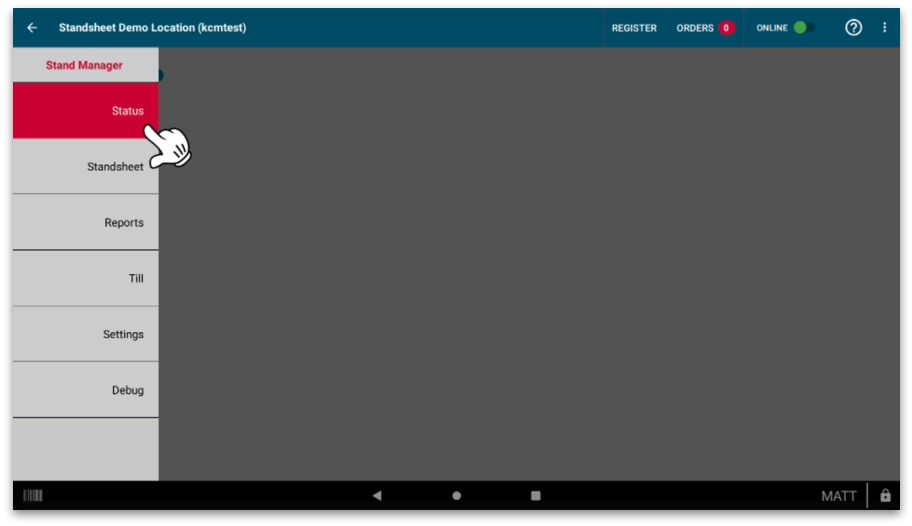 2. Toggle Kiosk Alcohol on or off.

Standsheet
Under Standsheet, employees can input counts on the standsheet that will populate in Clover Sport Manager under Events > Standsheets.
Standsheets that are not opened yet display: Standsheet disabled until the event starts.

2. Standsheets that have been opened on Clover Sport Manager at the start of an event will be opened to input counts.
Note: If you notice that you've opened the Standsheet in Clover Sport Manager, but it is still disabled on the terminal, click Reload and then return to the Standsheet.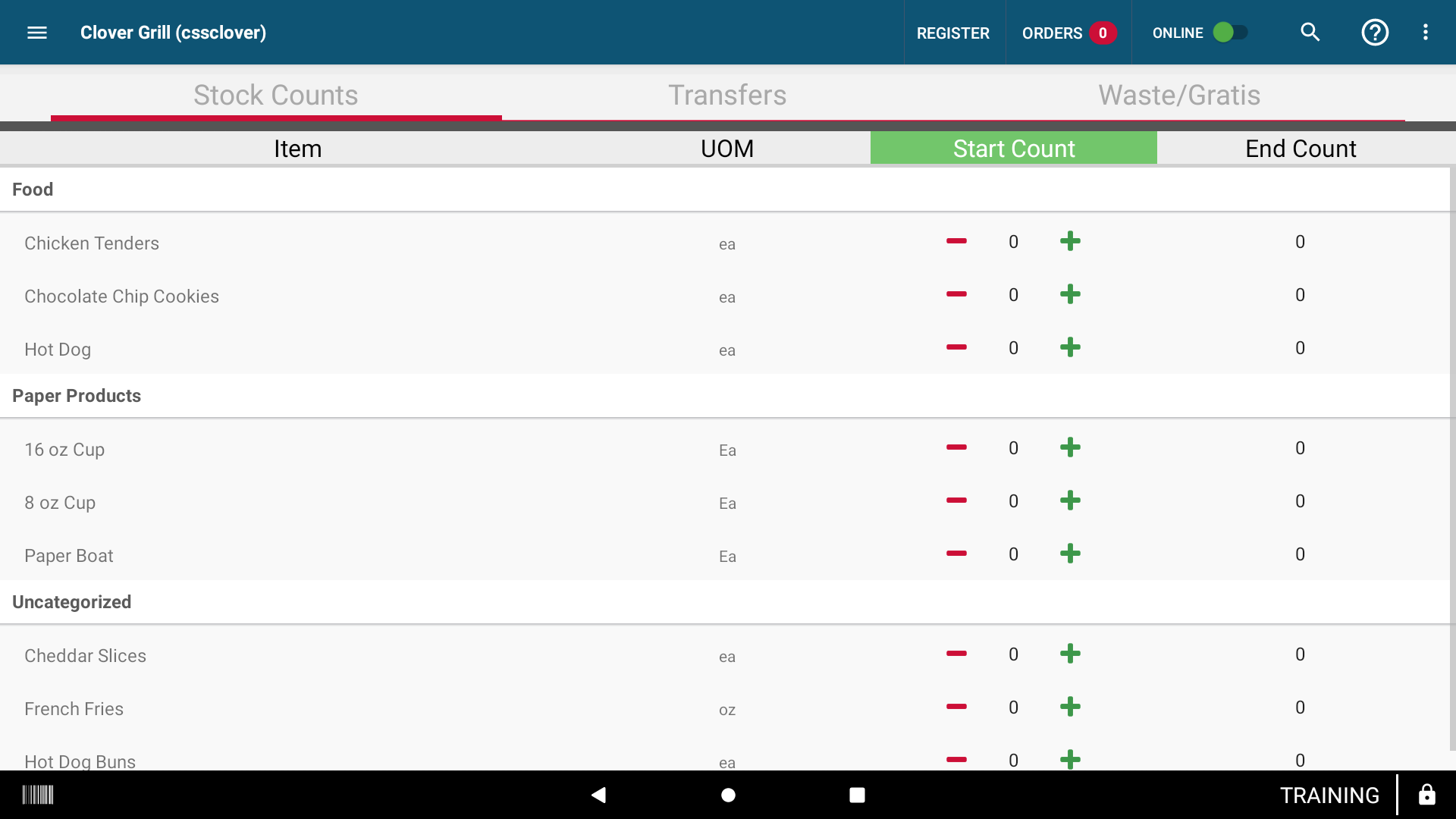 For more information on how to use digital standsheets, click here.
Reports
Under Reports, click each report to view or print it out on the printer attached to the register.
Sales Report: Summary of sales at that concession
Terminal Sales Report: Summary of sales done on that terminal
Sold Products: List of products and quantity sold at that location
Local Terminal Report: A quick view of the total payments made on the terminal since login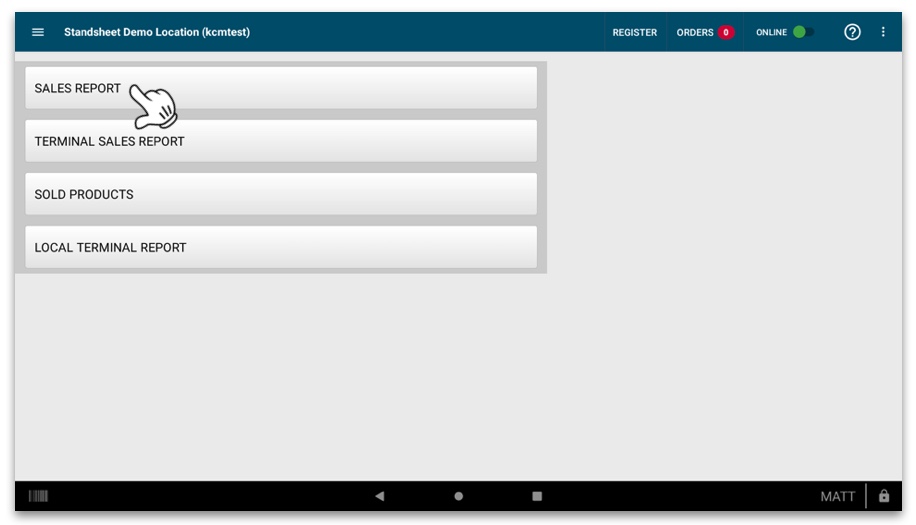 Till
Under Till, click Open Cash Drawer to open the cash drawer even when there has not been a cash sale.
1. Click Enter Cash Drop to enter a cash drop from the device that reports in Cash Room under Events > Cash Room in Clover Sport Manager.
2. Click View Drop History to view the drop history at this location.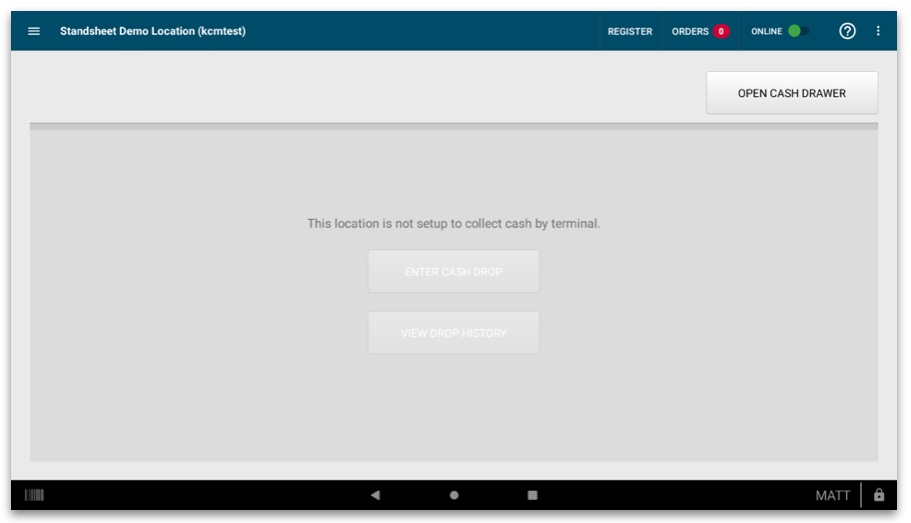 Settings
You can access Settings from both the main register screen as well as in Stand Manager. For more information about the Settings screen, click here.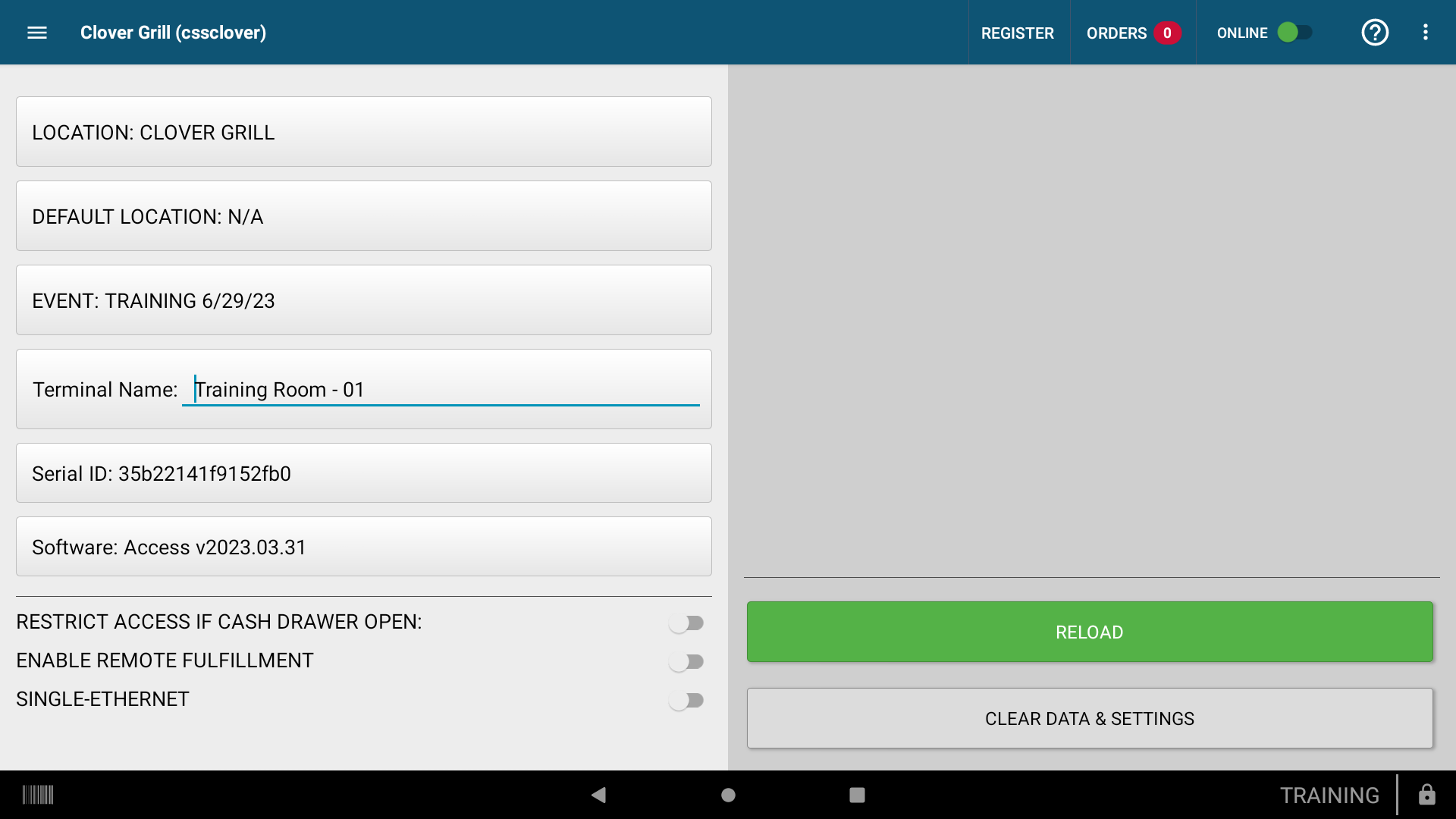 Debug
Should you run into an issue with your stationary device, a Support Agent may request that you send the Debug logs.
1. Toggle on the Tablet debug logging.
2. Click the green SEND DEBUG DATA TO BYPASS button to send a debug log.