Whether you have a Station Duo, Flex, or any other device supported by Clover Sport you can quickly complete these tasks to get your device(s) up and running.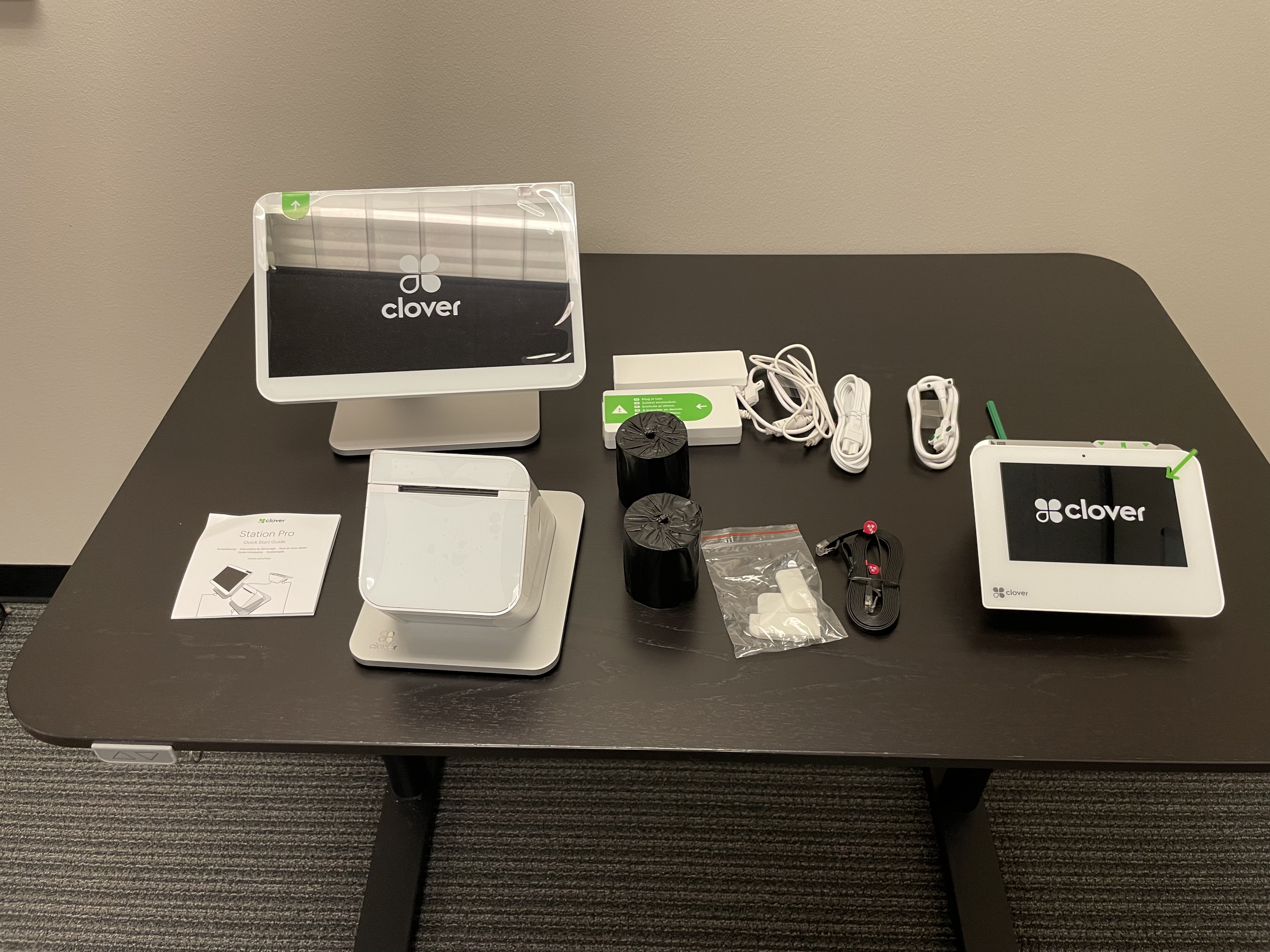 Here are is a quick rundown of those steps:
Unbox your device and use the included Quick Start Guide pamphlet to assemble your hardware
Once you connect to power your device will boot up to the initial Welcome Screen
Then you can set your default Language and continue to the Let's setup your Network screen

It is HIGHLY recommended that you connect your device(s) via ethernet for speed and stability but Wifi and LTE (Flex only) are available

You will then be able to Activate your Device via the activation code. This will be provided by your Project Manager. If you are missing your code please contact our Clover Sport Help team.
Welcome Screen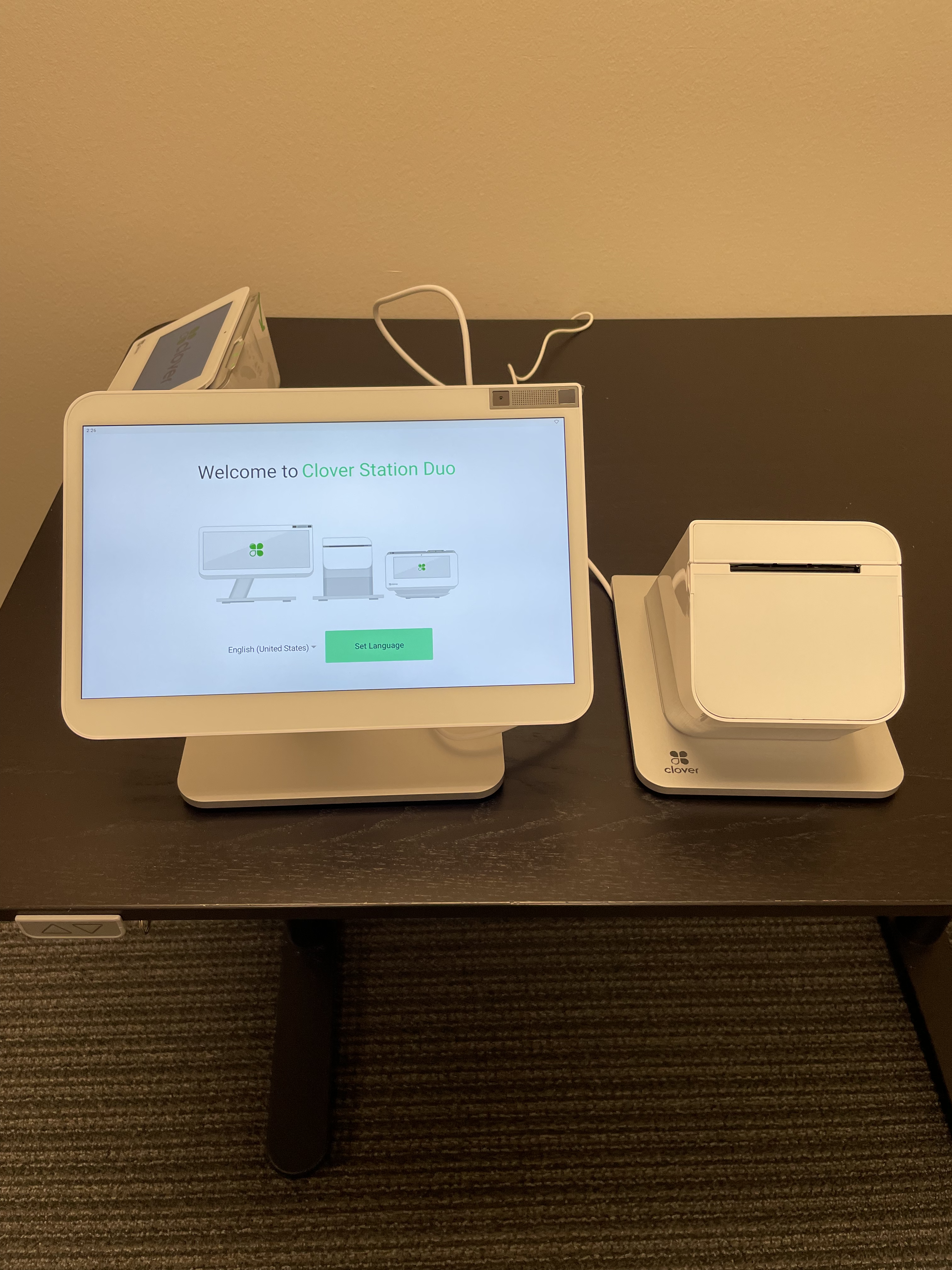 Let's setup your Network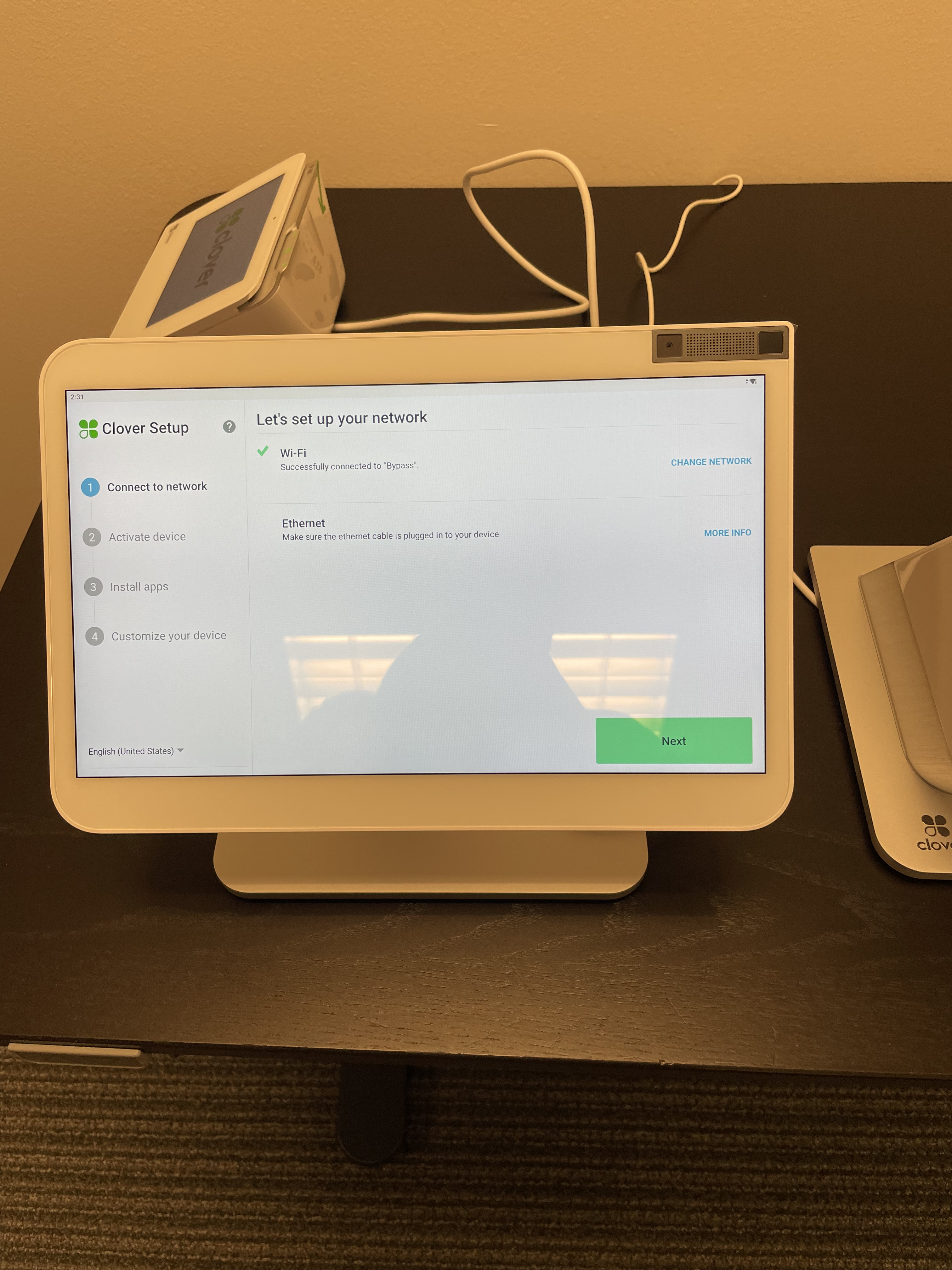 Connect to Wireless Network
To set up your Clover device, an active connection to the Internet is needed.
Once your Clover device has started, select your primary language that you would like Clover to be set up in.
You will then be taken to the Network connection screen. Tap Wi-Fi.
Select your wireless network from the list of available wireless networks.
Enter in your wireless network password when prompted.
Activate your Device
During the setup process, you will be asked for an activation code. This code can be obtained by contacting Clover Sport Help.
Once the code has been provided, use the keypad on the screen to enter it on the Activate Your Device screen.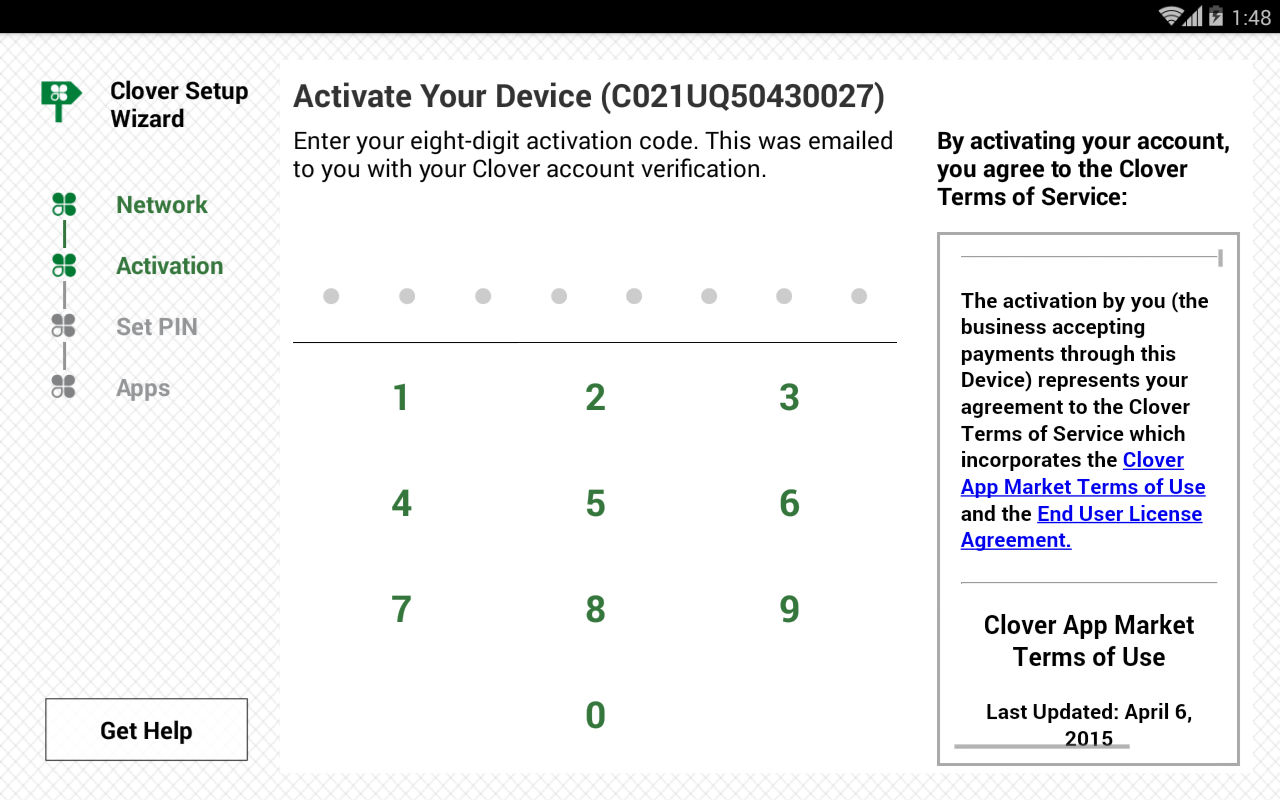 After entering your activation code, apps will begin downloading and installing. This process may take some time to complete depending on the device and network conditions. Once this is complete the device will automatically reboot and should be ready to go after that is complete.
Pair Printer
Clover Mobile devices will be given the option to connect to a Clover Mobile Bluetooth Printer.
If you do not need to pair a printer, you can tap the Skip button in the lower-right of the screen.
Otherwise, follow these steps to set up the printer:
Load paper into the printer.
Turn your Clover Mobile Printer on by pressing and holding the power button on its underside
After the Clover Mobile device detects nearby Clover Mobile Printers, tap Pair under Clover Mobile printer that you would like to pair with (the last 4 digits of the Clover Mobile Printer's Serial Number should display on the screen).
The printer should print out a pairing code.
Use your Clover Mobile device to scan the pairing code that is printed out from the Mobile Printer to complete the pairing process.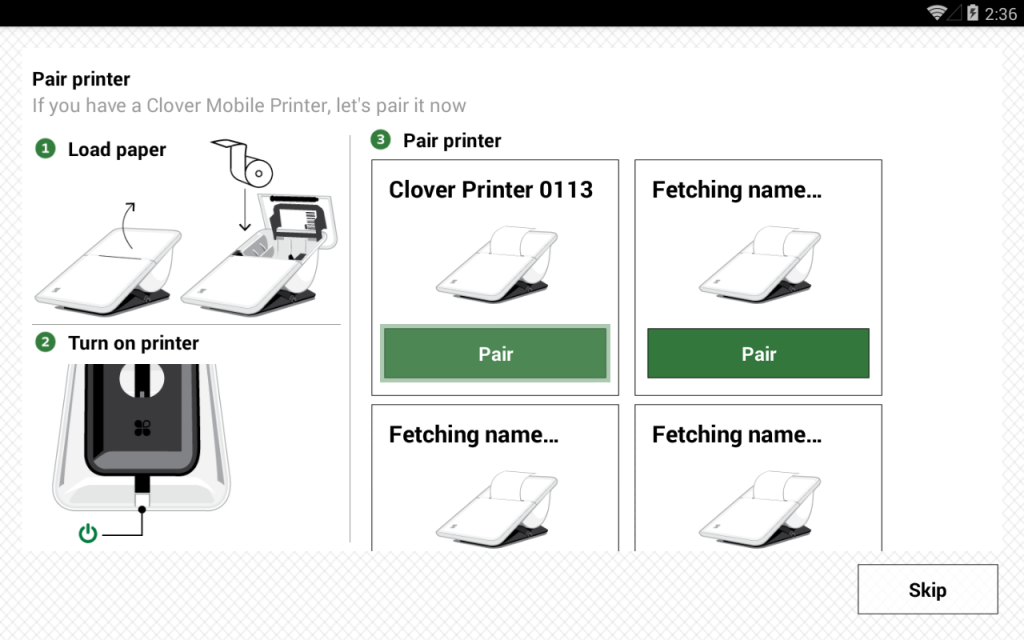 For more information about pairing the mobile printer, check out the article Set up & Pair Clover Mobile Printer on Clover's Help site.
Customize Your Device
You will be given the option to apply a Passcode to unlock your device and asked where you want to take tips and signatures.
You can change these settings at a later time in the Setup app.
Authorize Billing Changes
NOTE: You may be asked by Clover to authorize changes to the mobile data service available for your device during setup. You will not be able to complete set up of your device without authorizing this screen.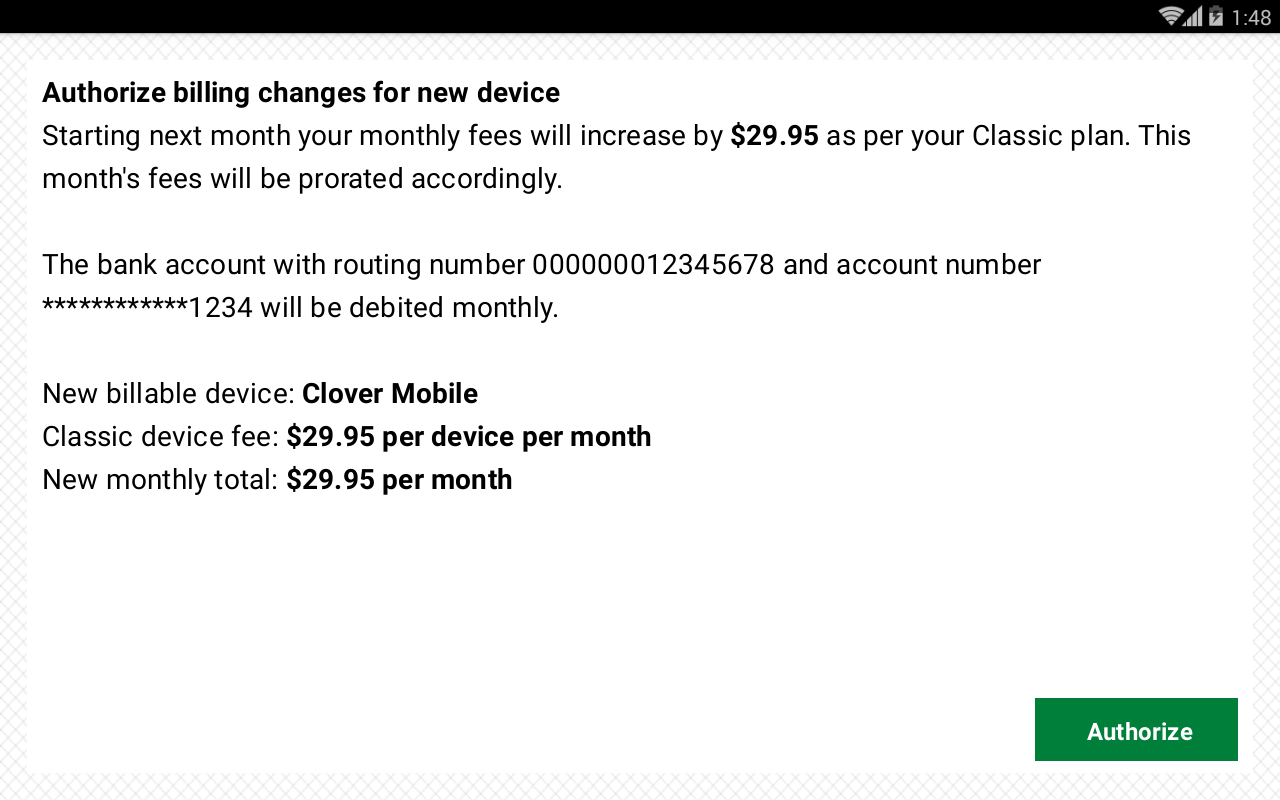 If you see this screen, tap the Authorize button in the lower-right and then contact Clover Sport Help for further assistance.
App Updates
Once the Setup process is complete, the Clover device will start downloading any additional app updates as well as the Bypass apps for use on the device. As before, the time it takes for the apps to download and install will be dependant on the device and network connection.
When the apps have finished installing, tap the Home button. You will be asked to Select a Home app. In the list of options, tap Bypass then tap the "Always" button to set Bypass as the default Home app.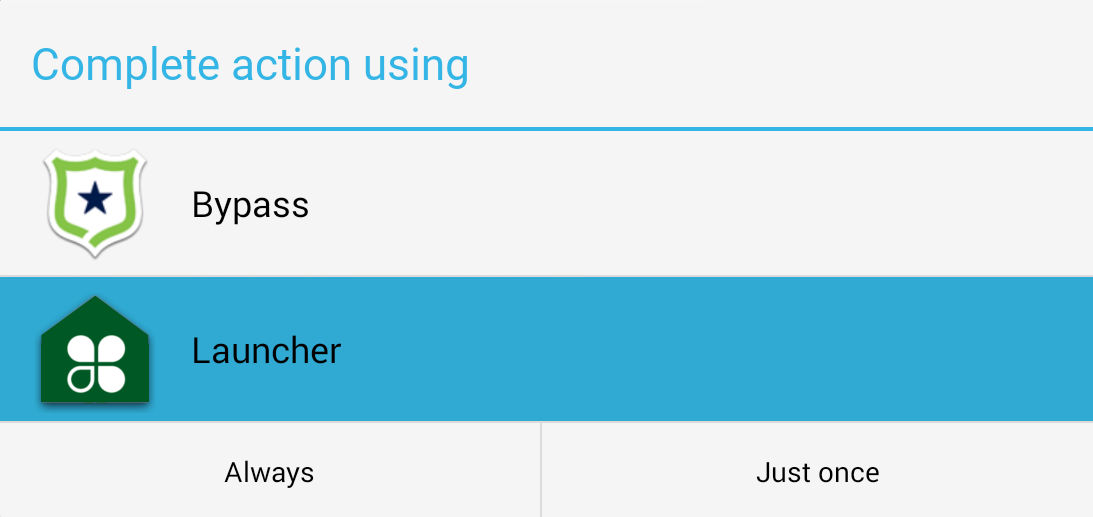 If you have any issues during the setup process, please contact Clover Sport Help for further assistance.