To start using Bypass inventory, you will need to receive said inventory. To begin tracking counts on hand, you need to receive inventory into a warehouse. We support multiple workflows, including creating purchase orders and receiving them, receiving without purchase order creation, and keg returns. (Note you will only use this if you are tracking perpetual inventory)
Table of Contents
To start a purchase order, navigate to Inventory > Purchasing & Receiving.
Receiving with a Purchase Order
Here you will see all previous purchase orders, and you can organize and filter here to know what you need to.
NOTE: Bypass does not automatically send Purchase Orders to your Suppliers. You will still need to contact your Supplier to place your order.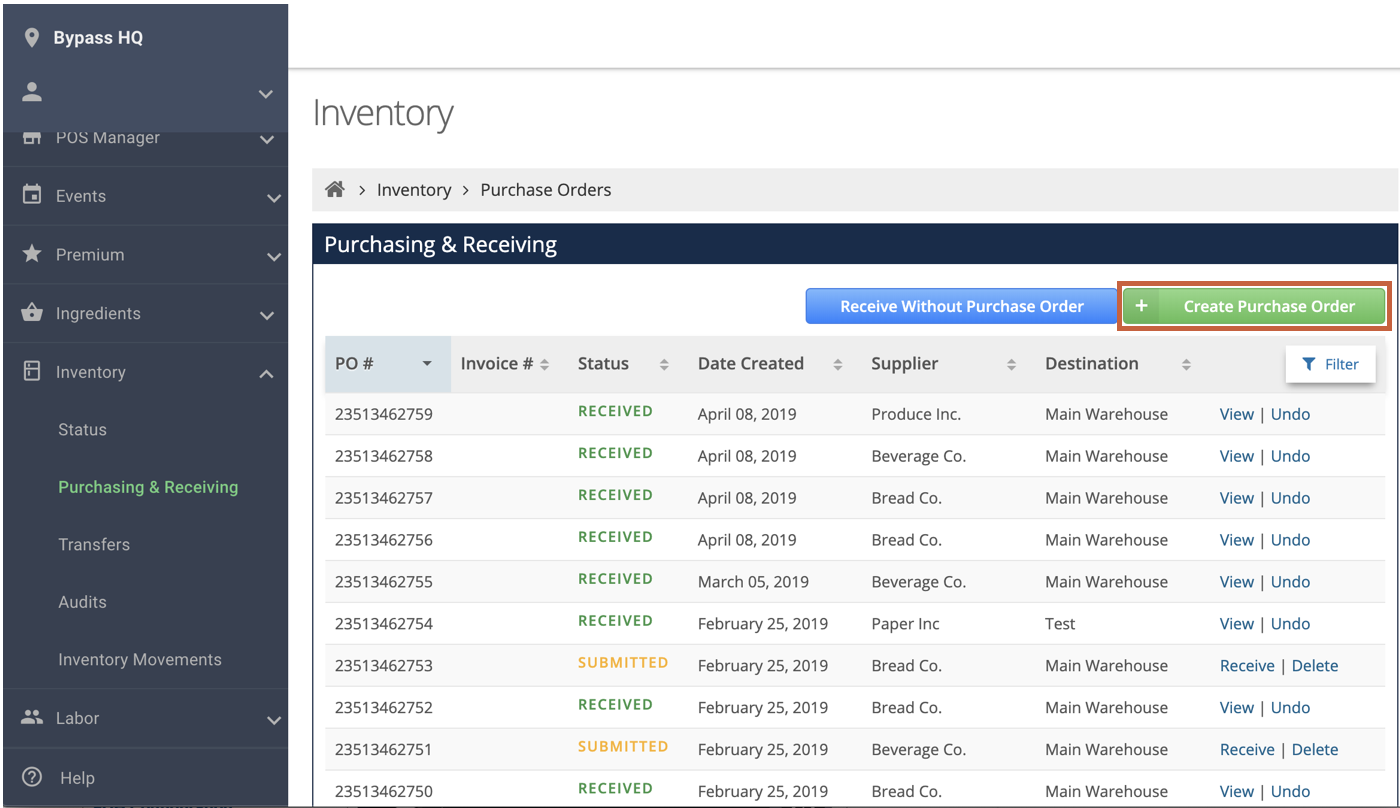 To create a purchase order:
Click the Create Purchase Order button.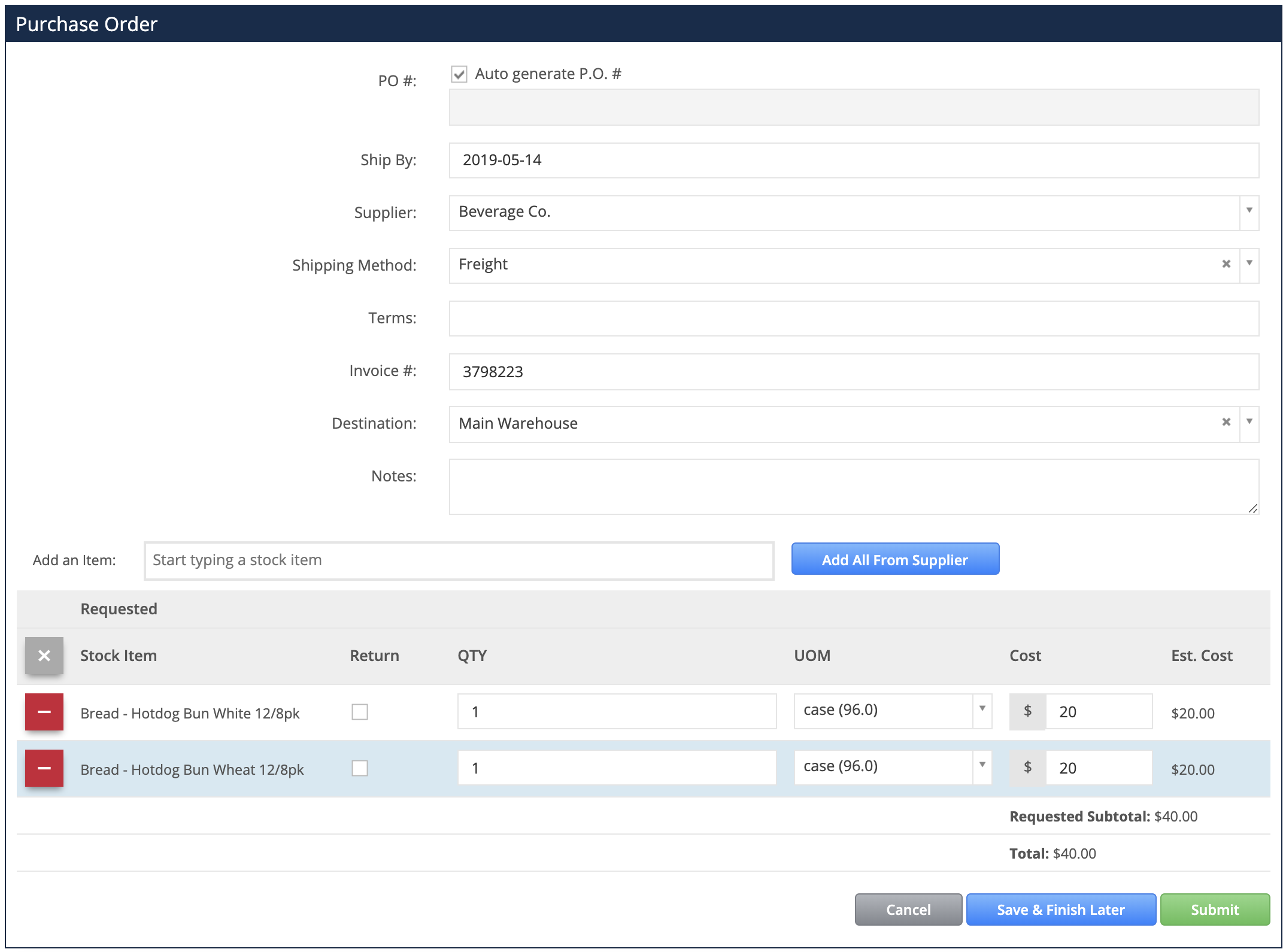 Fill out all fields your purchase order will require. If you plan on sending your supplier, a Purchase Order made through Bypass be sure to be detailed.
PO # - Purchase order number. Can be auto-generated starting with 1 and increases from that point forward.
Ship by - Date this order will be shipped.
Supplier - What supplier this purchase order is for. You can learn more about Creating a Supplier here.
Shipping Method - Either Air or Freight.
Terms - (Optional) What terms the agreement will be.
Invoice # - (Optional) you can put the invoice number here if applicable.


Destination - What warehouse these items will be going to. Learn more about Warehouse Creation here.
Notes - Any notes for this purchase order.
Once you have filled out all the necessary fields, turn your attention to the bottom of the window. We will now begin adding items to the purchase order.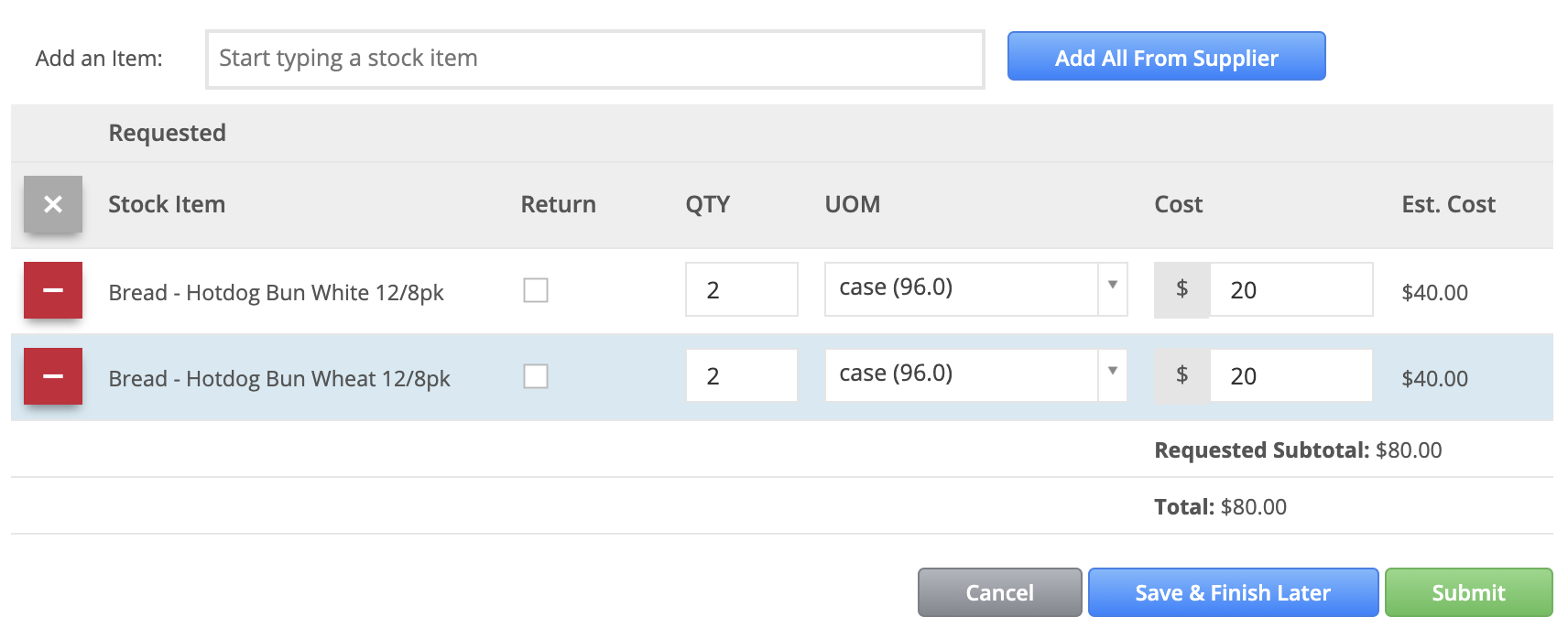 Here you will add items by typing the name of the stock item in the search field. Any inventory item that you have created will appear as you begin to type. Just click on it, and it will appear in the requested list.
Each item placed will have these fields that you can edit.
Return - If you are instead returning an item this will change the estimated cost to a negative value and remove it from your inventory. (typically used for kegs).
QTY - The quantity of this item in this purchase order.
UOM - The Unit of Measure that was set up when creating the stock item will be displayed here. In this example, we are purchasing two cases.
Cost - This field will default to the last cost it was listed. You can type in this field to adjust this amount.
Est. Cost - The estimated cost of this item (QTY x Cost).
You can always save this purchase order as a draft by clicking the Save & Finish Later button. This will return you to the first page, and this order will be listed as a draft.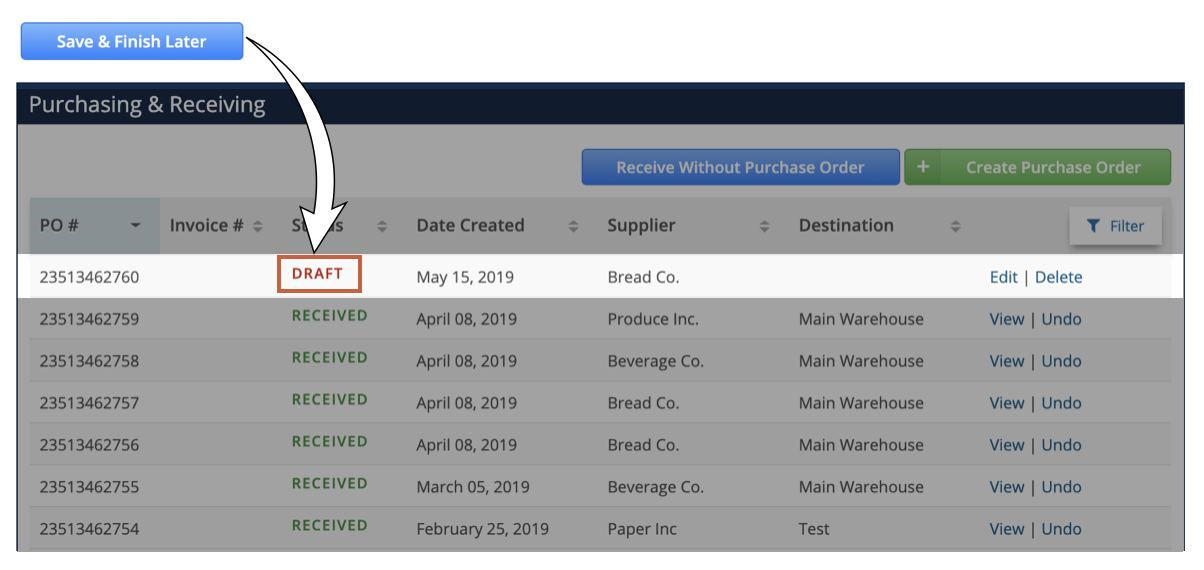 Once you are finished with your purchase order, you can click the Submit button, and it will change to a submitted state.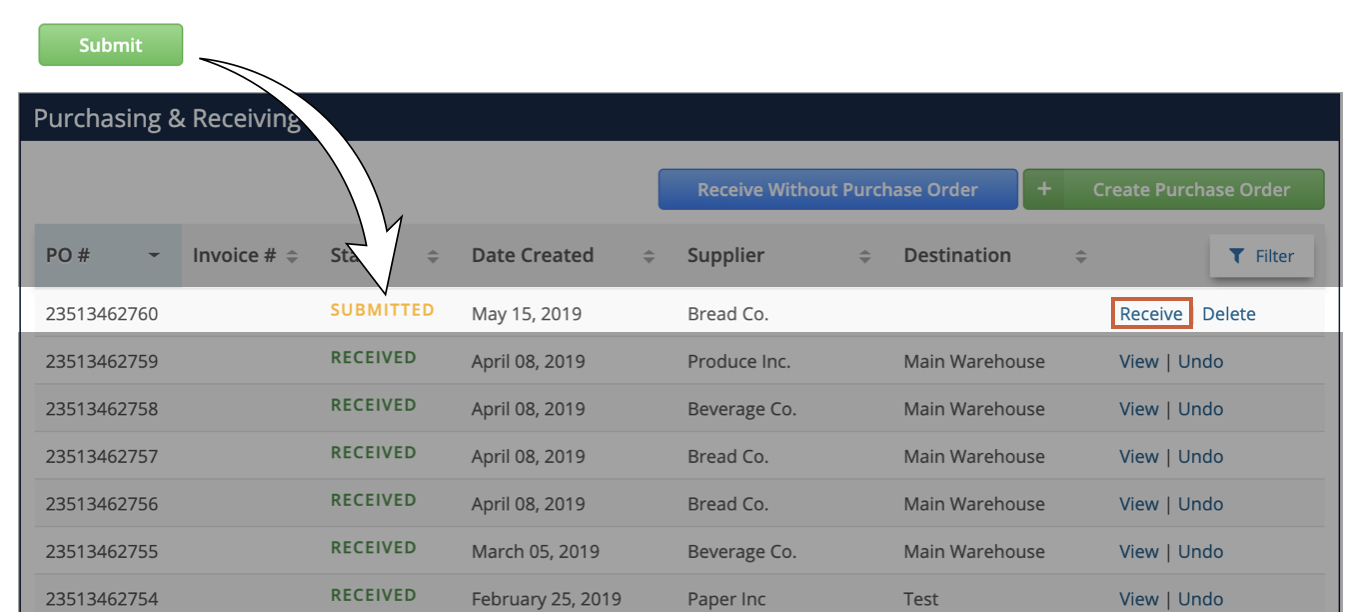 Once a purchase order is submitted, it will stay in the submitted state until it is received. Once you have received the order, then you will click the Receive button on the right-hand side.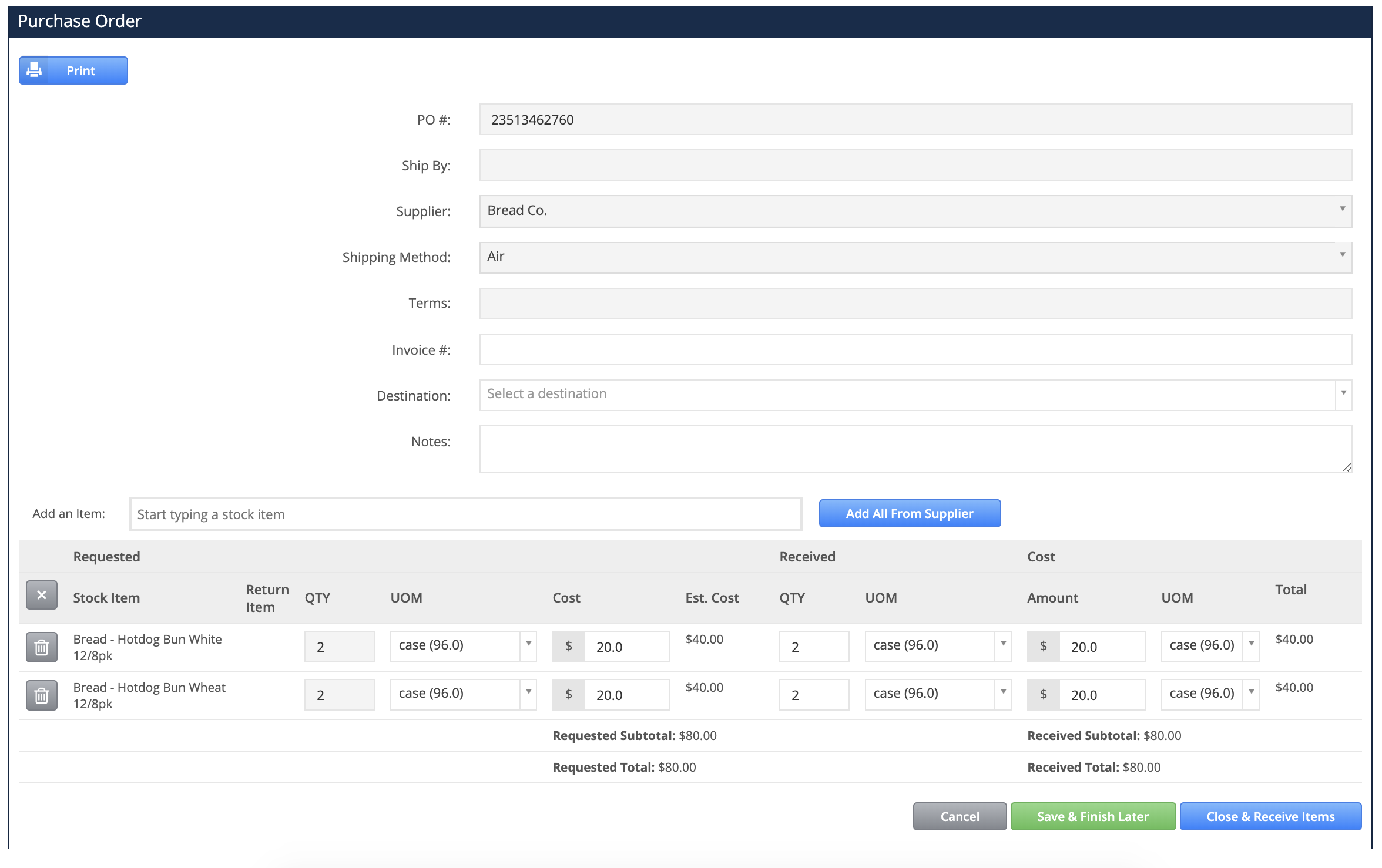 Here you can make your final adjustment to correct what you receive. Any fields that are greyed out you can not edit. You will notice at the bottom you will see the requested items on the left and the received items on the right.
You can add and remove items as needed. However, any items that appear in the received section will be submitted to inventory after the Close & Receive Items button is clicked.

If for any reason you need to delete or start over your purchase order, you can always delete or undo a purchase order. Undoing a purchase order will remove any inventory that was added from the warehouse it was added.
Receiving Without a Purchase Order
If you don't need to fill out a purchase order, you can instead receive items directly into a warehouse by using the Receive Without Purchase Order button. This process is much like the receive with a purchase order, but instead, it is only the last step.

When you receive without a purchase order, you will be brought to this screen.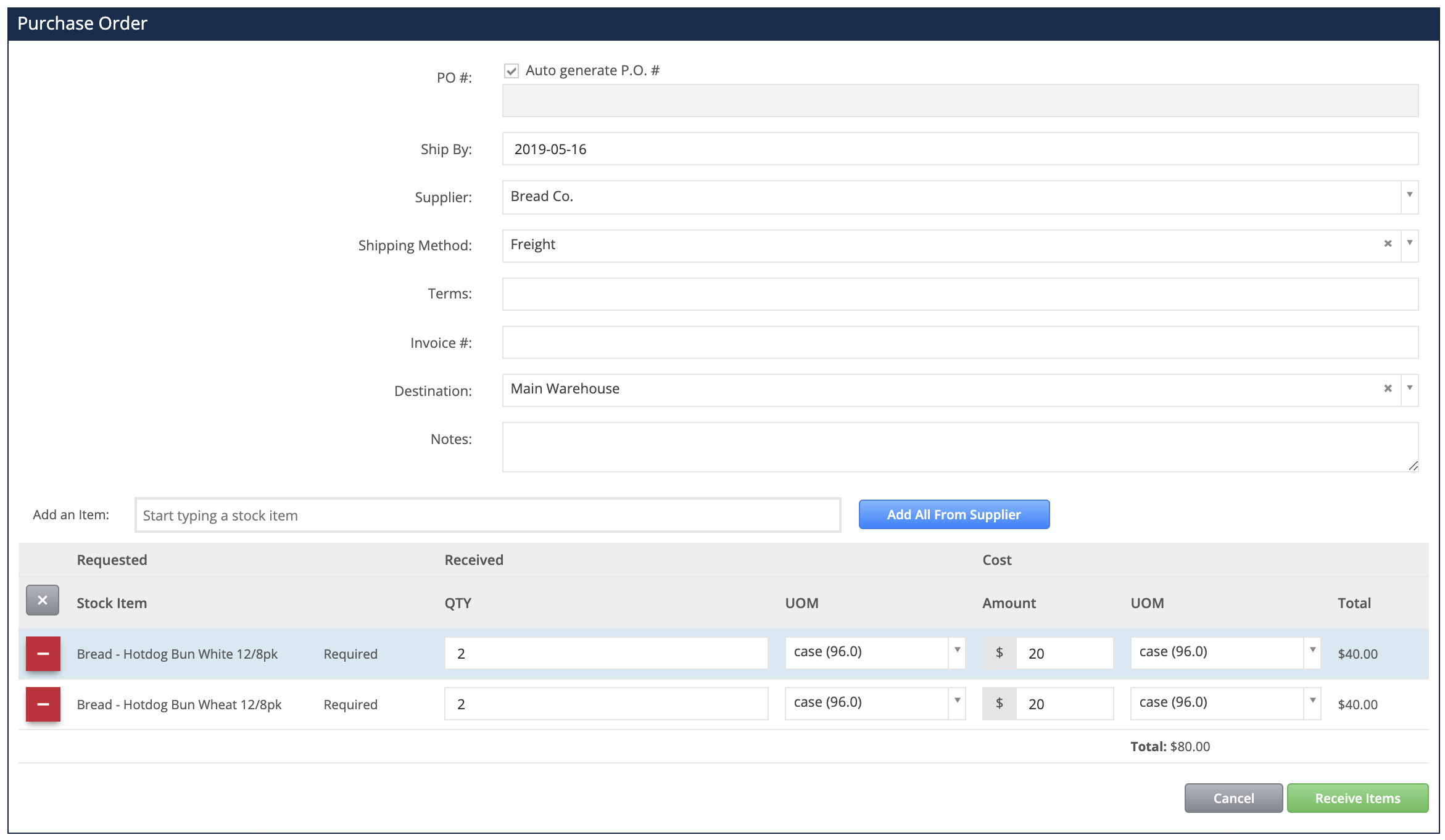 Here you will fill out the purchase order information as needed. You must still choose a supplier and a warehouse. At the bottom of the screen, you will type the names of the items you have received and adjust their quantities and units of measure. When finished, click the green Receive Items button and those stock items will be added to the warehouse you've selected.