Recipes are groups of one or more Stock Items. Recipes can be attached to items to track the movement of inventory when that item is sold. Instead of thinking of a cheeseburger as an item, a recipe sees a cheeseburger as a bun, a patty, and cheese. If you have not yet made Stock Items, you can click here to learn how to make them.

You can create recipes with stock items or other recipes. We will start by navigating to Ingredients > Recipes.
Table of Contents
Quick Overview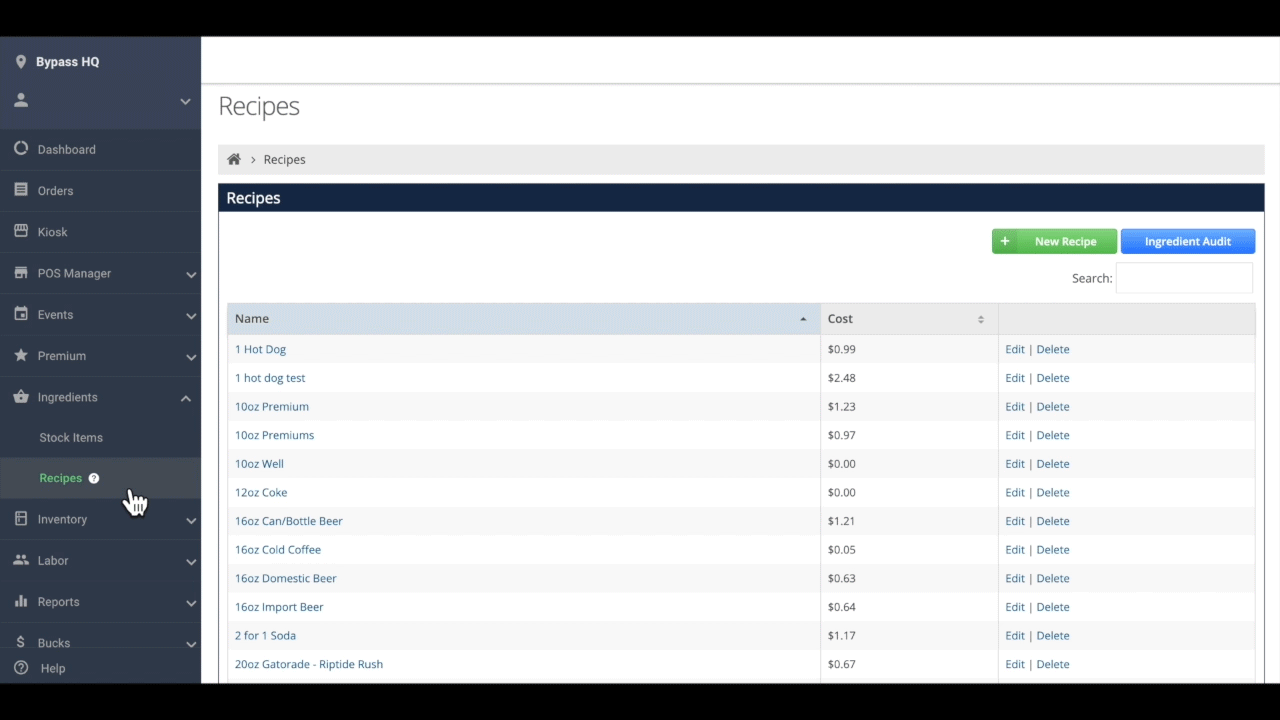 Creating a Recipe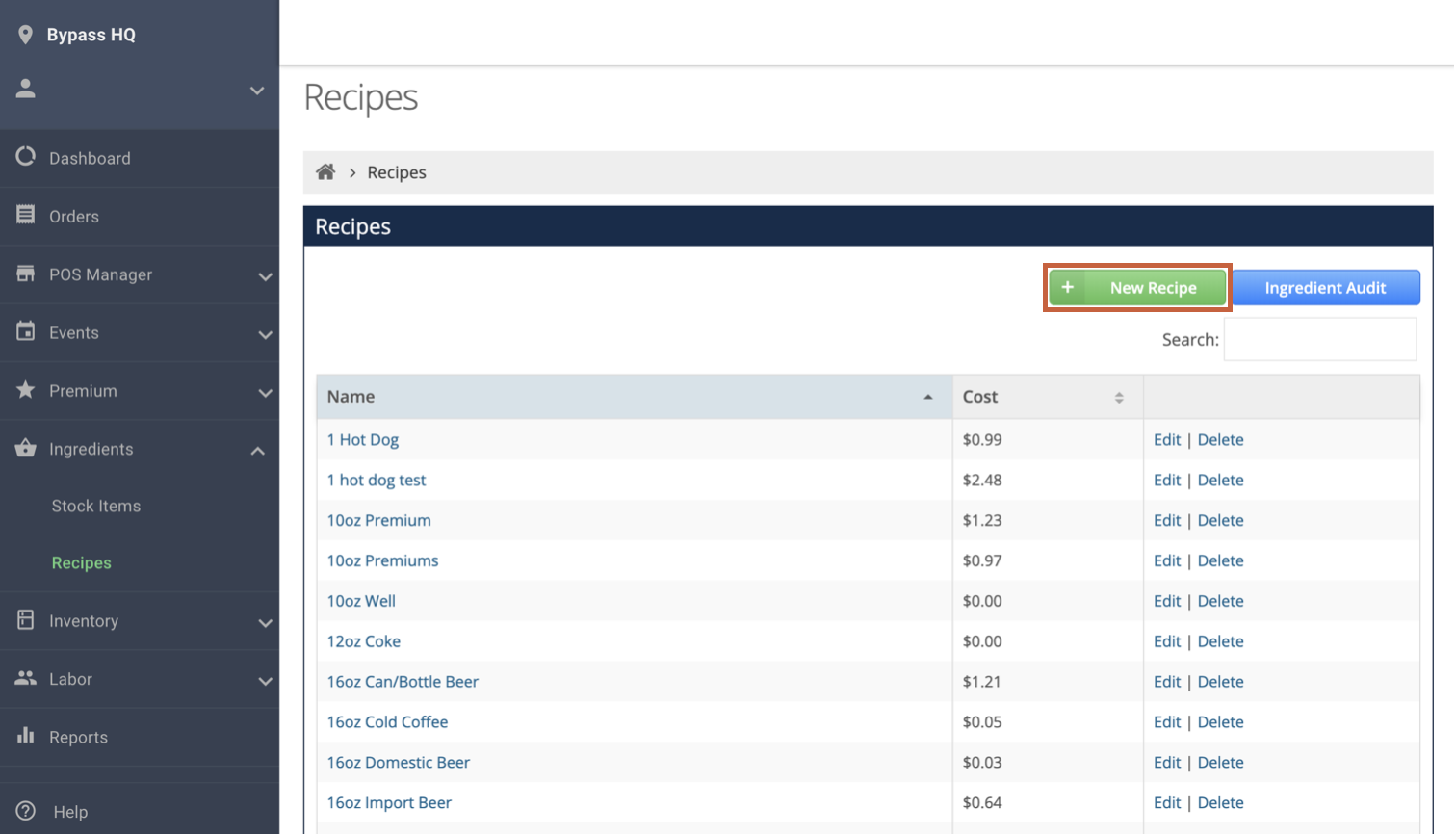 To create a new recipe click on the green New Recipe button.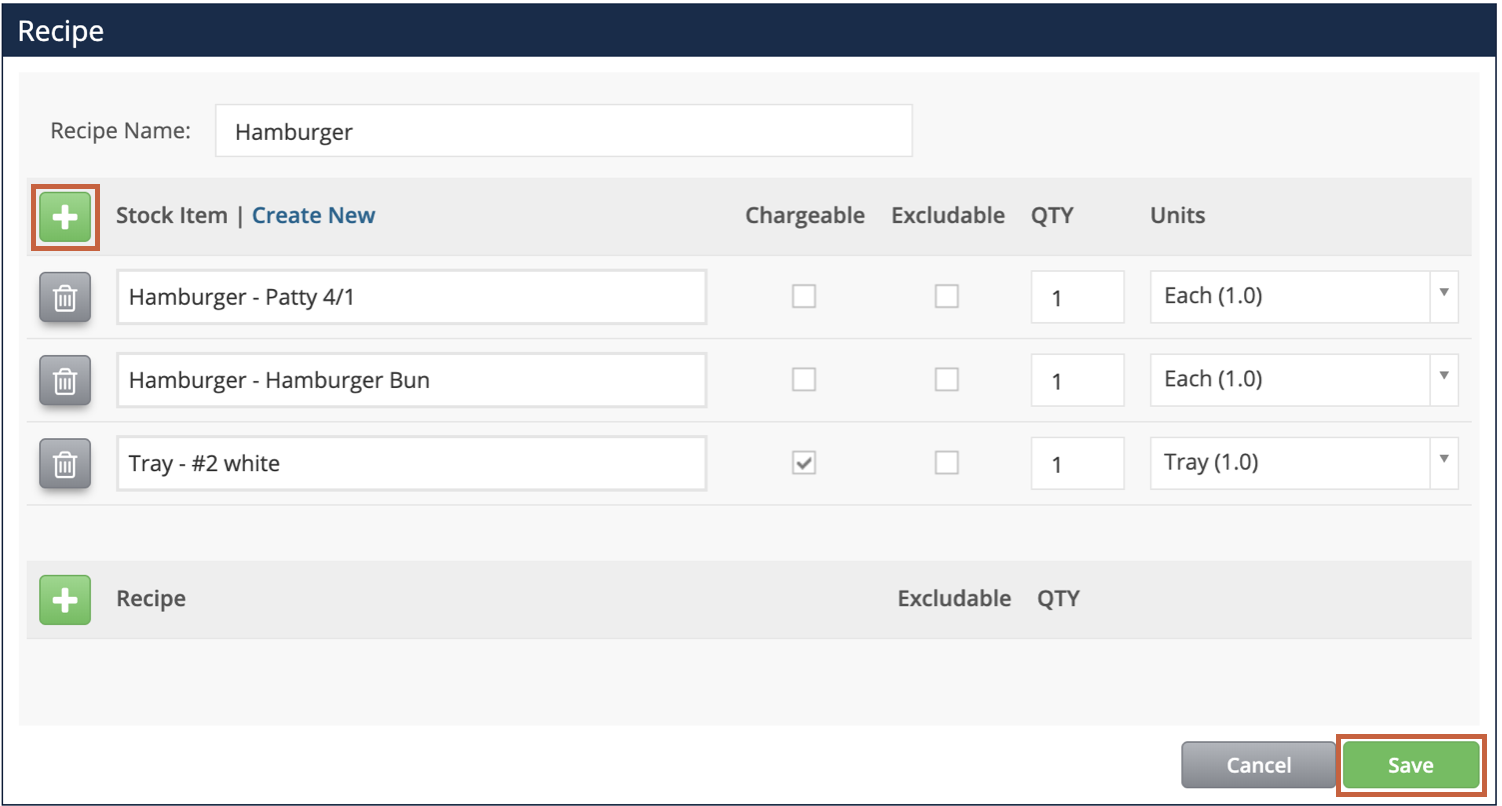 To create a recipe you will need a Name for the recipe, in this example we will use a Hamburger. To add stock items to a recipe click on the green Plus on the right side of the window and type the name of the stock item in the search box. Once done click the Save button. (You can also create a new stock item by clicking Create New)

After adding the stock items name you can choose some other details about this item.

Name - Name of the stock item that will appear on standsheets.
Chargeable - Will show the price of this stock item on the standsheet.
Excludable - Treats this stock item as a modification. Will prompt on the register to remove this item.
QTY - How many of this stock item is used for this recipe.
Units - The Unit of Measurement that is calculated in inventory. Typically the base unit.
Repeat this process for as many stock items as this recipe needs.
You can add recipes to created on the Menu Manager page.
Adding a Recipe to a Recipe
You can also add a recipe to a recipe. Let's make a Cheeseburger using the recipe we just made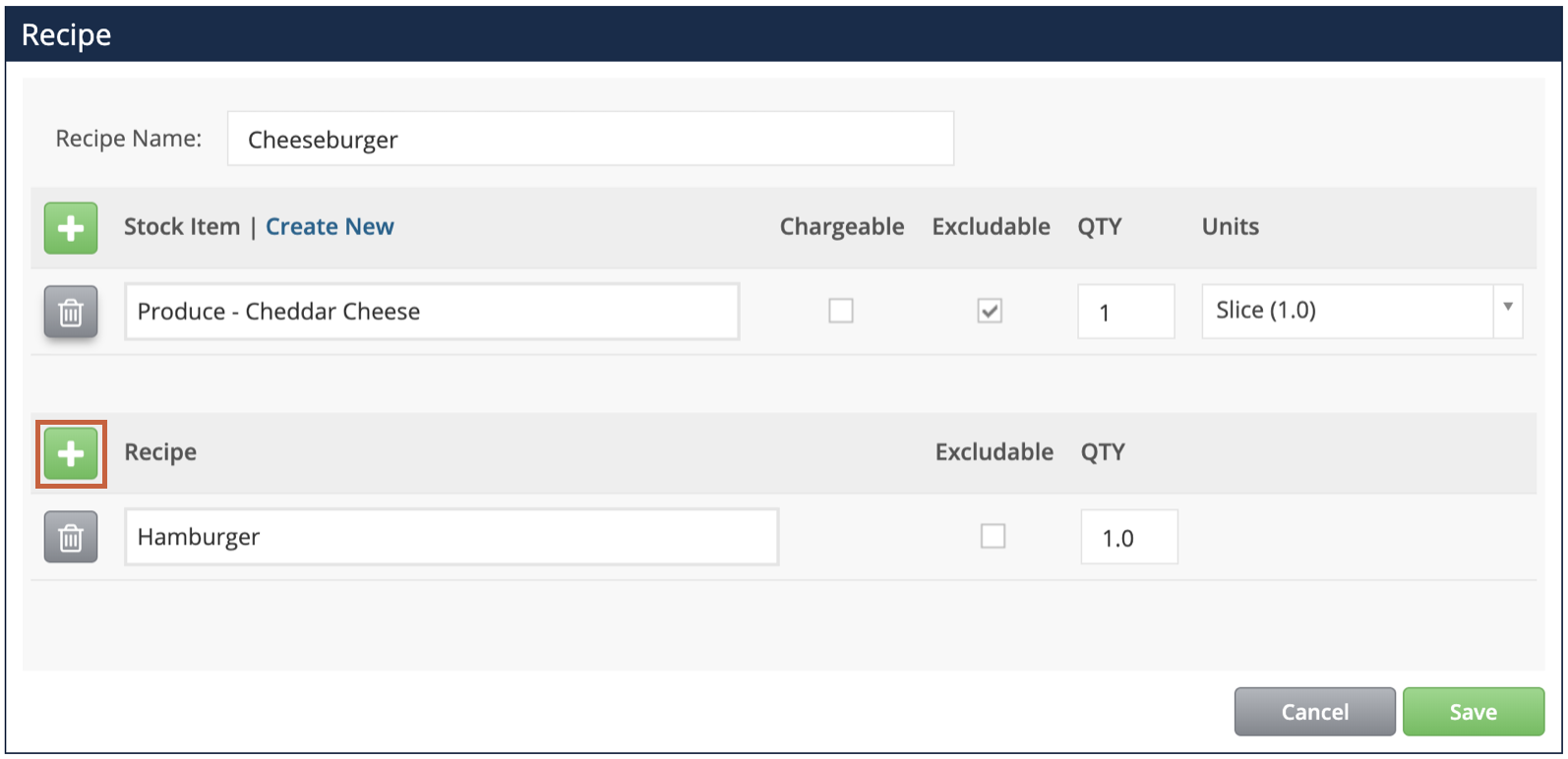 Here we click on the green Plus towards the bottom of the window. Adding the hamburger recipe also adds all the stock items that were included with that recipe. Use this feature to minimize the amount of work that you have to do.
Deleting a Recipe
WARNING: When a Recipe is deleted, it cannot be recovered and its name can no longer be used.
If you have a Menu Item attached to this Recipe, the Menu Item will not be removed but Inventory for the Menu Item will no longer be tracked.
In the list of Recipes, click the Delete link to the right of the Recipe to delete.
In the confirmation dialog that appears, click the Delete button.
Performing an Audit on Ingredients
If you need a list of the Ingredients (Stock Items) used in your Recipes, you can perform an Ingredient Audit to generate a report listing this information.
Click the Ingredients Audit button in the upper-right.
A CSV file will be generated
Click the Download CSV file button once the file has been generated to save it to your computer.
Sample report generated when performing an Ingredient Audit