When receiving Stock Items, your goods are delivered to your venue by Suppliers. Steps are listed below on how to enter in your Supplier's personal data into Bypass Manager for Purchasing and Receiving purposes.
Sep 20, 2017
•
Knowledge
To manage your Suppliers, navigate to Configuration > Inventory Configuration > Suppliers in Bypass Manager.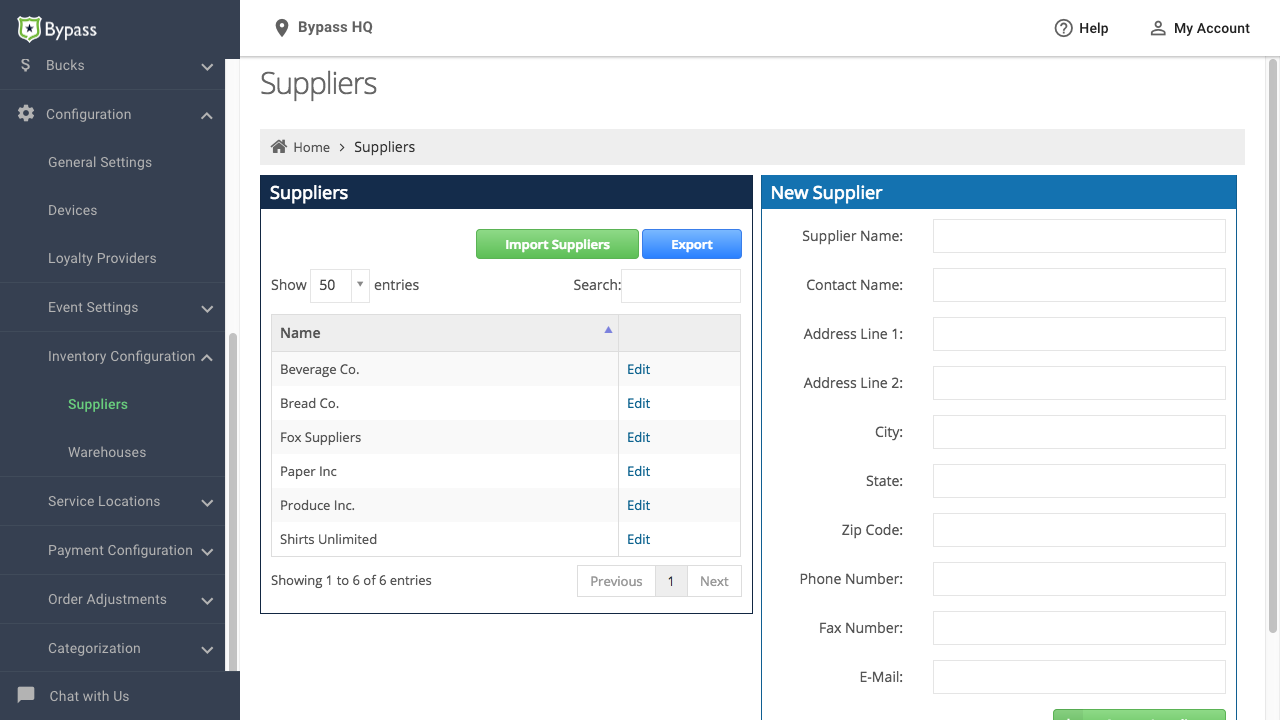 Managing Suppliers in Bypass Manager
Adding a New Supplier
To add a new Supplier,
In the New Supplier box on the right, enter in the details of the Supplier.

The Supplier Name field is the only required field.

Click the Create Supplier button to add the Supplier.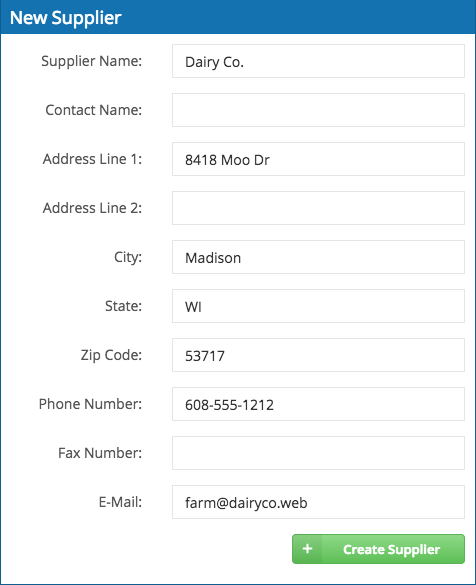 Adding a new Supplier
Editing a Supplier
If you need to update the name or contact details for a Supplier,
Click the Edit link to the right of a Supplier.
In the Edit box that appears on the right, update any details for the Supplier as needed.

The Supplier Name field is the only required field.

Click the Update Supplier button to save the changes.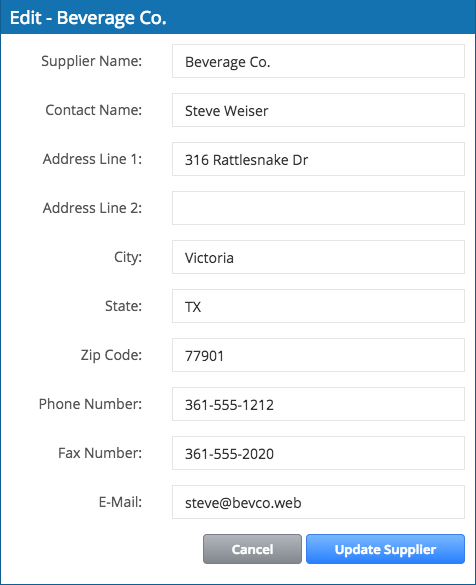 Updating the contact information for a Supplier
Export Suppliers List
To save a list of your Suppliers to your computer, you can click the Export button at the top of the Suppliers list.

Import Suppliers
The Bypass Manager provides a way for you to upload and import Suppliers If you already have a list of Suppliers.
Click the Import Suppliers button at the top of the Suppliers list.
Click the View Sample Import Template link at the top to download a template to use.

See the Import Suppliers template definitions below to view the required fields.

Edit the downloaded Microsoft Excel workbook with the details of your Suppliers.
Back in Bypass Manager, click the Choose File button and select the edited Suppliers list.
Click the Import button to start the import process.

Example of the Import Suppliers template
If there are any errors with a Supplier in your imported file, an error message will appear in the upper-right corner of the screen and that Supplier will not be added. Correct the errors and then import the file again.

Example Error Message that can appear when importing Suppliers
Definitions
Import Suppliers template
| | | |
| --- | --- | --- |
| Column | Definition | Required |
| Name | Name of Supplier | Yes |
| Address1 | Street number and name | Yes |
| Address2 | Additional address information (such as Suite, Building Number, etc.) | - |
| City | City where Supplier is located. | Yes |
| State | State the Supplier is located. | Yes |
| ZipCode | ZIP Code where Supplier is located. | Yes |
| ContactName | Direct contact for the Supplier. | Yes |
| ContactEmail | Email Address for the Supplier. | - |
| PhoneNumber | Phone number for Supplier. | Yes |